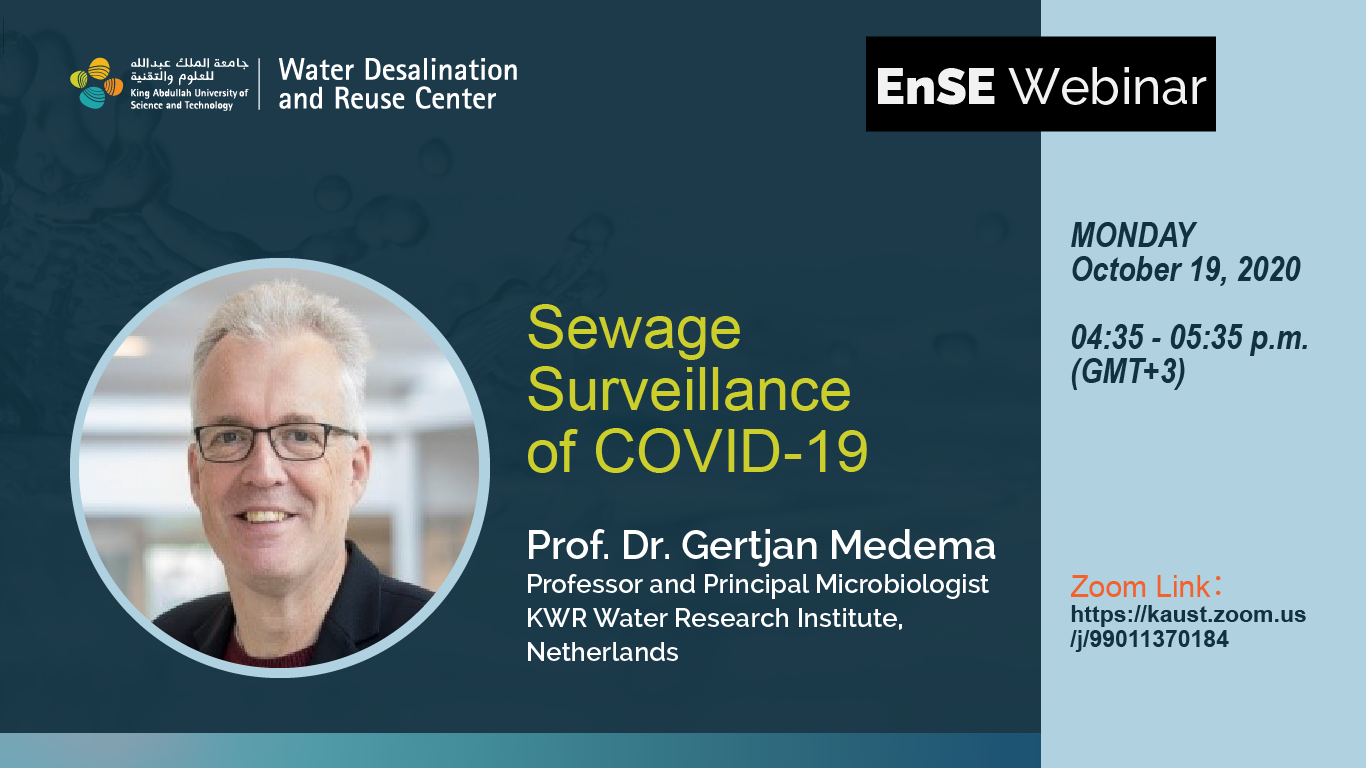 EnSE Webinar Invited Speaker Series



Speaker:

Prof. dr. Gertjan Medema

Professor and Principal Microbiologist, KWR Water Research Institute, Netherlands

Monday, 19 Oct 2020, 4:35 pm – 5:35 pm


Host:

Prof. Johannes Vrouwenvelder

Director, WDRC

Sewage surveillance of COVID-19
Abstract:

In the current COVID-19 pandemic, tools to monitor when and where the virus (re)emerges are desperately needed to support early detection and control of outbreaks. However, many infected persons are not tested, because they have no or mild symptoms or are test-averse. But everybody uses the toilet. A large proportion of infected individuals shed SARS-CoV-2 in their stool. So the sewerage network collects excreta with SARS-CoV-2 from all individuals, including all infected individuals, and transports it to the wastewater treatment plant (WWTP). Sampling wastewater is therefore sampling a mix of the total population in the sewershed. As a consequence, sewage surveillance of SARS-CoV-2 RNA better represents the true SARS-CoV-2 circulation in the population. Our group has pioneered sewage surveillance and has shown that it is sensitive and fast enough to provide an early warning of increasing SARS-CoV-2 in cities. This is important information to support stratified lockdown decisions. Sewage surveillance is aimed to monitor the circulation of SARS-CoV-2 communities; large communities such as inhabitants of a large city, or smaller communities, such as nursing homes, university or office campuses, prisons, etc. It is a very cost-efficient tool for population surveillance that is now used in many countries. It is also a non-invasive tool, which does not require repeated sampling of individuals (such as nursing home inhabitants) to survey for (absence of) SARS-CoV-2 circulation in that community.


Bio:

Prof. Gertjan Medema (M) is a principal microbiologist at KWR since 1996. His main area of expertise is detection methods, transmission, risk assessment, and epidemiology of waterborne pathogens. He initiated research on sewage surveillance of SARS-CoV-2 and has published on this topic and was invited for keynotes on this by many organizations (WHO, US National Academies of Sciences, Engineering and Medicine, International Water Association). He coordinated the epidemiological investigation of the Legionella outbreak in Flint, Michigan. His experimental, field, and modeling research focuses on the occurrence, transport, and inactivation of waterborne pathogens in the environment and by removal water treatment/disinfection. He is a part-time chair on Water & Health at Delft University of Technology (Sanitary Engineering) since 2009 and Visiting Hannah Professor on Water & Health at Michigan State University since 2018. He is an advisor of WHO on microbiological (drinking) water guidelines and QMRA since 1991 on SARS and WASH in 2003, and via WHO of the European Commission on the EU Drinking Water Directive and water reuse guidelines. He has coordinated the joint research program of the Netherlands water utilities. He is director of KWR's WHO collaborating centre on Water Quality & Health and advisor to the WHO on waterborne pathogens and QMRA since 1991 on SARS and WASH in 2003 and ebola and WASH in 2014 and of EU DG Environment on water reuse guidelines and drinking water guidelines. He has over 20 years of experience in European research projects at KWR.