Ph.D. Defense: Sandra Medina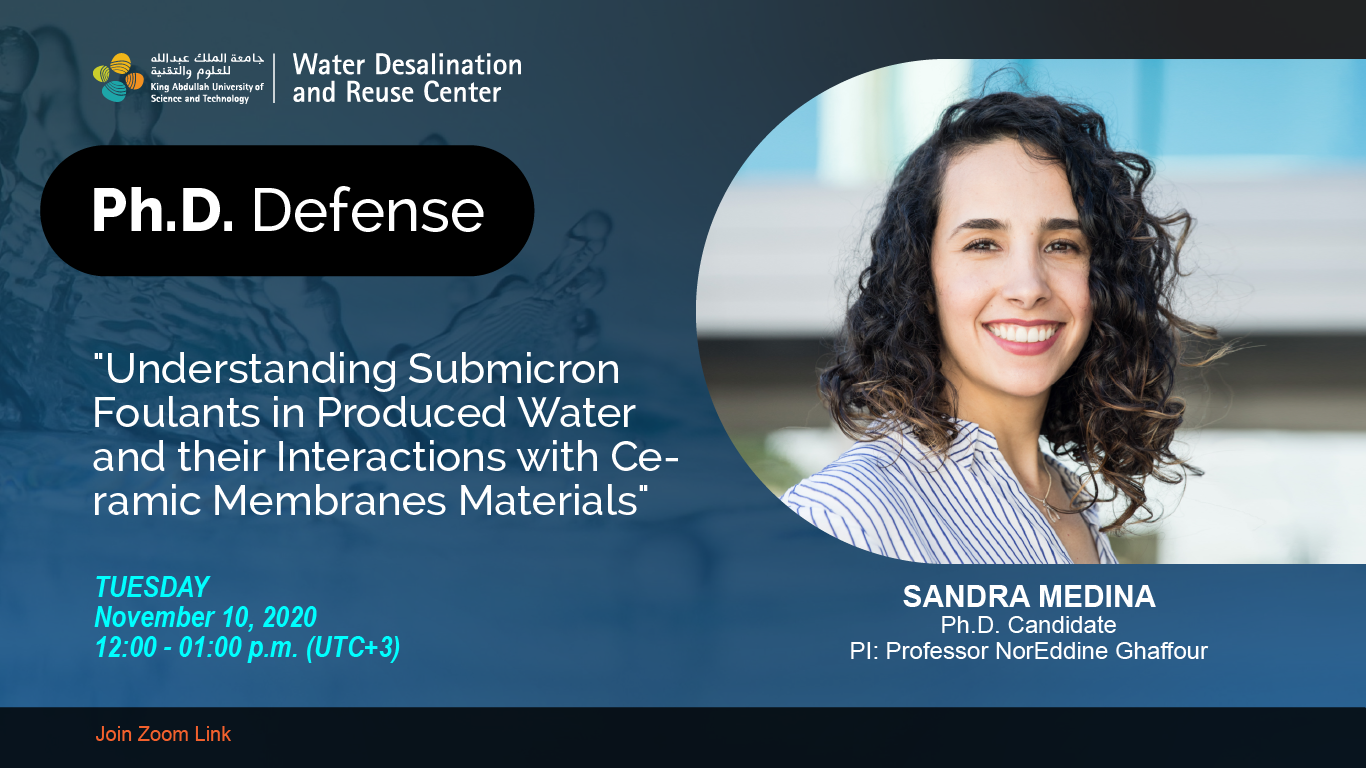 Ph.D. Defense: Sandra Medina

PI: Professor NorEddine Ghaffour

Tuesday, Nov 10, 2020 l 12:00 - 01:00 pm (UTC+3)
Join Zoom link:

Understanding Submicron Foulants in Produced Water and their Interactions with Ceramic Membranes Materials
Abstract:

Produced water (PW), or water associated with crude oil extraction, is the largest oily wastewater stream generated worldwide. The reuse and reclamation of these important water volumes are critical for more sustainable operation in the oilfield. Ceramic membrane filtration is a promising technology for PW treatment; however, fouling is the major drawback for a broader application. Fouling leads to higher resistance to flow, resulting in lower permeate flux rate for a given driving force, reducing membrane lifetime, and ultimately leading to higher capital expenditures (CAPEX) and operating expenses (OPEX). Further understanding of the interactions between PW foulants and the ceramic membrane material (i.e., metal oxides) is needed for designing appropriate fouling control strategies and cleaning protocols for ceramic membranes. This work explored different techniques and methodologies to characterize, visualize, and quantify the submicron PW contaminants content and its adsorption interactions with metal oxides. The application of Quartz Crystal Microbalance with Dissipation (QCM-D) combined with advanced microscopy techniques, allowed the analysis of adsorption and cleaning of contaminants in a complex oilfield PW onto metal oxides. The methods and analyses developed in this work are suitable for membrane fouling phenomena and potentially used to understand injection wells clogging and corrosion.

Short Bio:

Sandra Medina is a Colombian chemical and environmental engineer with an entrepreneurial mindset and passion for driving integration of her scientific skills and industry needs. Her work has focused on wastewater treatment, with experience in environmental follow-up in the upstream oil & gas sector, which motivated her to pursue her Ph.D. around produced water treatment. Currently, she is co-founder of the biotechnology startup Wayakit and Ph.D. candidate at the King Abdullah University in Saudi Arabia.