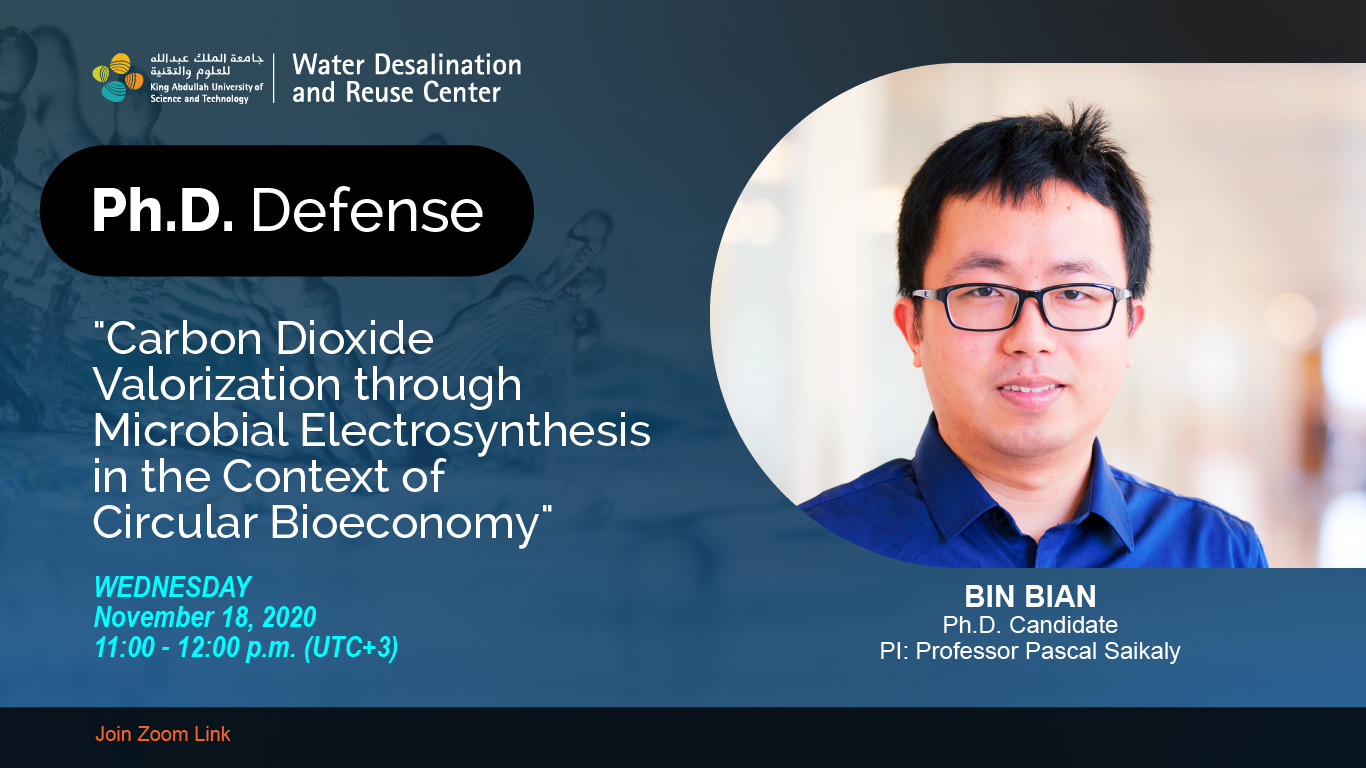 Ph.D. Defense: Bin Bian

PI: Professor Pascal Saikaly

Wednesday, Nov. 18, 2020 l 11:00 a.m.- 12:00 p.m. (UTC+3)
Join Zoom link:
https://kaust.zoom.us/j/91270600778
Carbon Dioxide Valorization through Microbial Electrosynthesis in the Context of Circular Bioeconomy
Abstract:

Microbial electrosynthesis (MES) has recently emerged as a novel biotechnology platform for value-added product generation from waste CO2 stream. Integrating MES technology with renewable energy sources for both CO2 valorization and renewable energy storage is regarded as one type of artificial photosynthesis and a perfect example of circular bioeconomy. However, several challenges remain to be addressed to scale-up MES as a feasible process for chemical production, which include enhanced production rate, reduced energy consumption and excellent resistance to external fluctuations. To fill these knowledge gaps, different in-depth approaches were proposed in this dissertation by optimizing the cathode architecture, CO2 flow rates and utilizing efficient photoelectrode to improve MES performance and stability. A novel cathode design, made of conductive hollow fiber membrane, was developed in this dissertation to improve CO2 availability at MES cathode surface via direct CO2 delivery to chemolithoautotrophs through the pores in the hollow fibers. By modifying the hollow fiber surface with carbon nanotubes (CNTs), higher bioproduct formation was achieved with excellent faradaic efficiencies, which could be attributed to the improved surface area for bacterial adhesion and the reduction of cathodic electron transfer resistance. Since CO2 flow rate from industrial facilities typically varies over time, this hollow-fiber architecture was also applied to test the resistance of MES systems to CO2 flow rate fluctuation. Stepwise increase of CO2 flow rates from 0.3 ml/min to 10 ml/min was tested and the effect of CO2 flow rate fluctuations was evaluated in terms of biochemical generation and microbial community. MES was further integrated with renewable energy supply for both energy storage and CO2 transformation into biofuels and biochemicals. Stable MES photoanode, based on molybdenum-doped bismuth vanadate deposited on fluorine-doped tin oxide glass (FTO/BiVO4/Mo), was prepared for efficient solar energy harvesting and overpotential reduction for oxygen evolution reaction (OER), which contributed to one of the highest solar-to-biochemical conversion efficiency ever reported for photo-assisted MES systems. The applied nature of this dissertation with fundamental insights is of great importance to bring MES one step closer to full-scale applications and enable MES technology to be economically more viable for renewable energy storage and CO2 valorization.

Short Bio:

Bin Bian received his bachelor's degree in materials science and engineering from Southeast University in 2013, followed by a master's degree in mechanical and materials engineering from Western University, Canada, in 2016. Afterward, he joined KAUST as a Ph.D. student in environmental science and engineering and has been working with Prof. Pascal Saikaly on research topics related to resource recovery from waste stream CO2 through microbial electrosynthesis platform.