EnSE Webinar Invited Speaker Series: Dr. Mohamed Ateia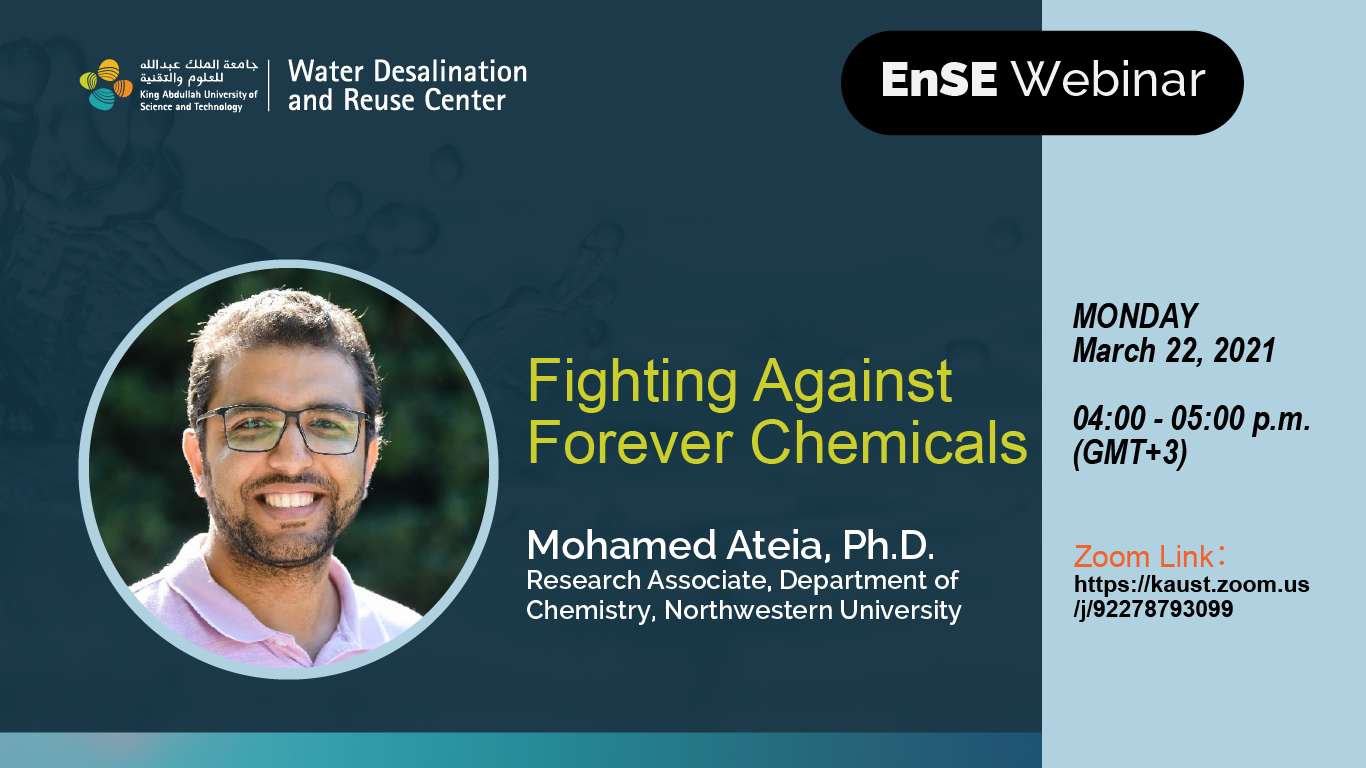 EnSE Webinar Invited Speaker Series

Speaker:

Dr. Mohamed Ateia

Research Associate, Department of Chemistry, Northwestern University
Monday, March 22, 2021, 4:00 pm – 5:00 pm
Host:

Prof. Pascal Saikaly

Fighting Against Forever Chemicals
Abstract:

You cannot taste or smell them in your tap water, but most drinking water supplies are contaminated with trace levels of per- and polyfluoroalkyl substances (PFAS). PFAS are a group of persistent and mobile fluoro-organic chemicals that have been detected in many water supplies, and their recommended safe concentrations in drinking water are as low as 6 ng/L. Animal studies have found that animals exposed to PFAS at high levels resulted in changes in the function of the liver, thyroid, pancreas and hormone levels. Current technological advances suggest that amine-containing sorbents can provide alternative solutions to PFAS control in the treatment of municipal water and wastewater at relatively low PFAS concentrations. In this talk, I will answer and discuss: Why are amine-containing sorbents efficient for PFAS removal? What do we need to develop more efficient sorbents? I will also provide an outlook on the innovative research needed to develop more efficient sorbents that will enable compliance with the increasingly stringent regulations of PFAS.

Bio:

Dr. Mohamed Ateia is a Research Associate at the Department of Chemistry at Northwestern University. His research focuses on the development of new materials and techniques to adsorb and/or degrade emerging water pollutants (e.g. PFAS, DBPs, PPCPs, illicit drugs) as well as the mobility of new classes of contaminants in the environment (e.g. microplastics). Prior to joining Northwestern University, Dr. Ateia studied in Tokyo Institute of Technology, Japan and the University of Copenhagen, Denmark, then he completed a postdoctoral training at Clemson University. Dr. Ateia has won awards including 2019 Clemson University Distinguished Postdoctoral Award, Kikkawa-Yamaguchi Best Ph.D. Dissertation Award, and The First Place Prize – Honda Young-Engineers-Scientists (Y-E-S).