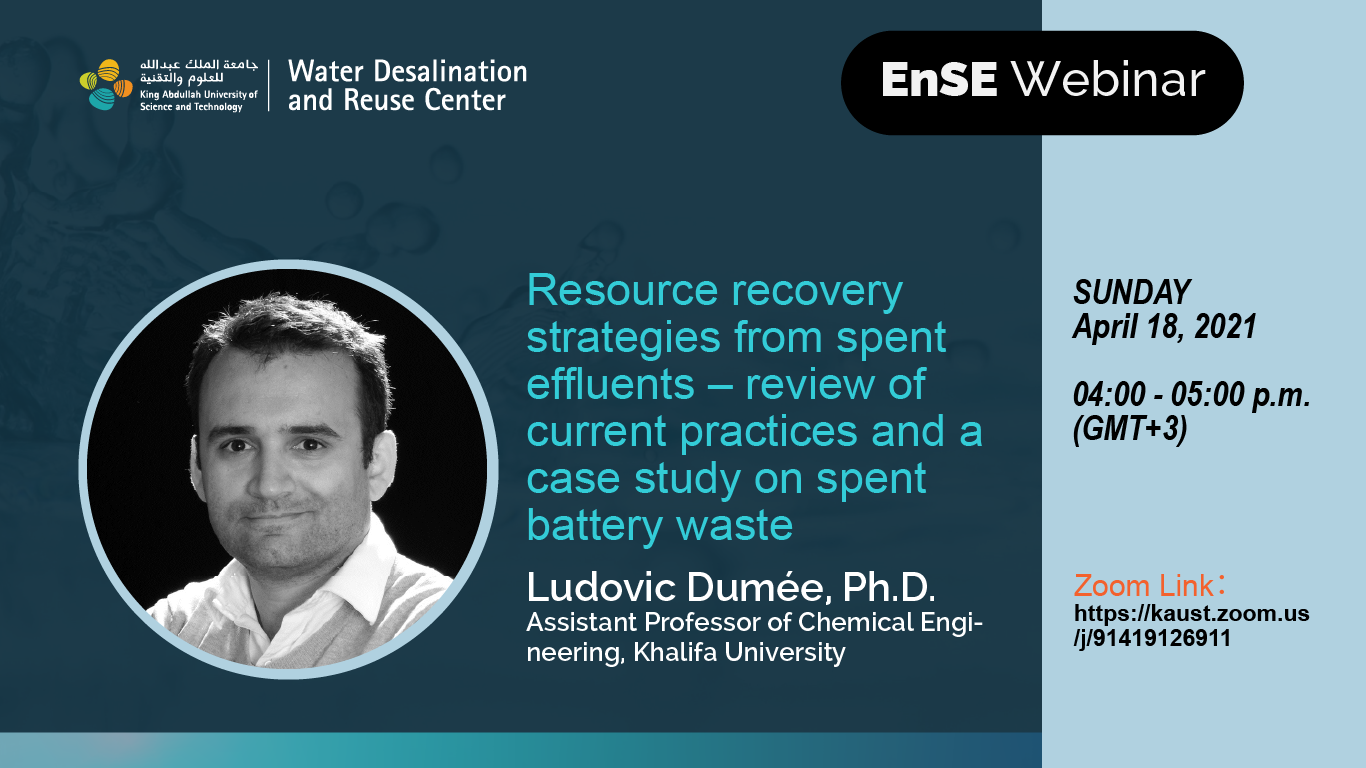 EnSE Webinar Invited Speaker Series

Speaker:


Prof. Ludovic Dumée

Khalifa University, Department of Chemical Engineering, Abu Dhabi, UAE
Sunday, April 18, 2021, 4:00 pm – 5:00 pm
Host:

Prof. Hans Vrouwenvelder

Director, WDRC at KAUST
Resource recovery strategies from spent effluents – review of current practices and a case study on spent battery waste
Abstract:

The incentive to up-cycle and recycle materials, towards the development of Circular Materials supply chains, has recently found new heights from the "liquid mining" technologies. The selective recovery of valuable materials from mixed liquors or effluents however represents a key challenge given the very complex nature of such liquid matrixes involved. Recently, new combinatorial strategies involving trains of treatments have further paved the way towards zero-liquid discharge and ultra-selective extraction pathways. These technologies are promising but raise a key question: How far is resource recovery either economy viable or environmentally desirable?
In this talk, a review of recent advances in resource recovery strategies towards selective and cost-effective liquid extraction will be presented. A particular focus will be given to adsorptive and membrane separation technologies, as well as opportunities arising from new separation materials architectures to help tackle specific technical challenges. After a brief presentation of our general research interests, our recent works on spent battery treatment, towards ultra-selective Cobalt or Lithium extraction from very acidic lixiviates will be discussed.
Bio:

Dr. Ludo Dumée is an Assistant Professor of Separation Materials within the Chemical Engineering Department of Khalifa University, in Abu Dhabi, UAE. Curious by nature, he is a multidisciplinary engineer interested in the development and application of advanced materials, primarily focused on membranes, adsorbents, and catalysts. His research interests lay in the understanding of nanoscale interactions between contaminants and surfaces as well as the design of reactive and stimuli-responsive and triggered materials for environmental and healthcare applications. Ludo's team and work have been focused on the development of innovative solutions towards environmental challenges arising from emerging micro-pollutants, such as microplastics or PFAS, as well as the conversion of gases into fuels and monomers to facilitate resource recovery and conversion. Besides, he is a strong advocate of circular economy strategies and of sustainable materials and processes development. Born and bred in France, he joined Khalifa University in Fall 2020, coming from Australia where he worked at various research institutions for >14 years.
A complete list of publications, duties, and leadership activities may be found on the links below:
https://www.ku.ac.ae/college-people/dr-ludovic-f-dumee
https://www.researchgate.net/profile/Ludovic-Dumee; Google Scholar Ludovic DUMEE