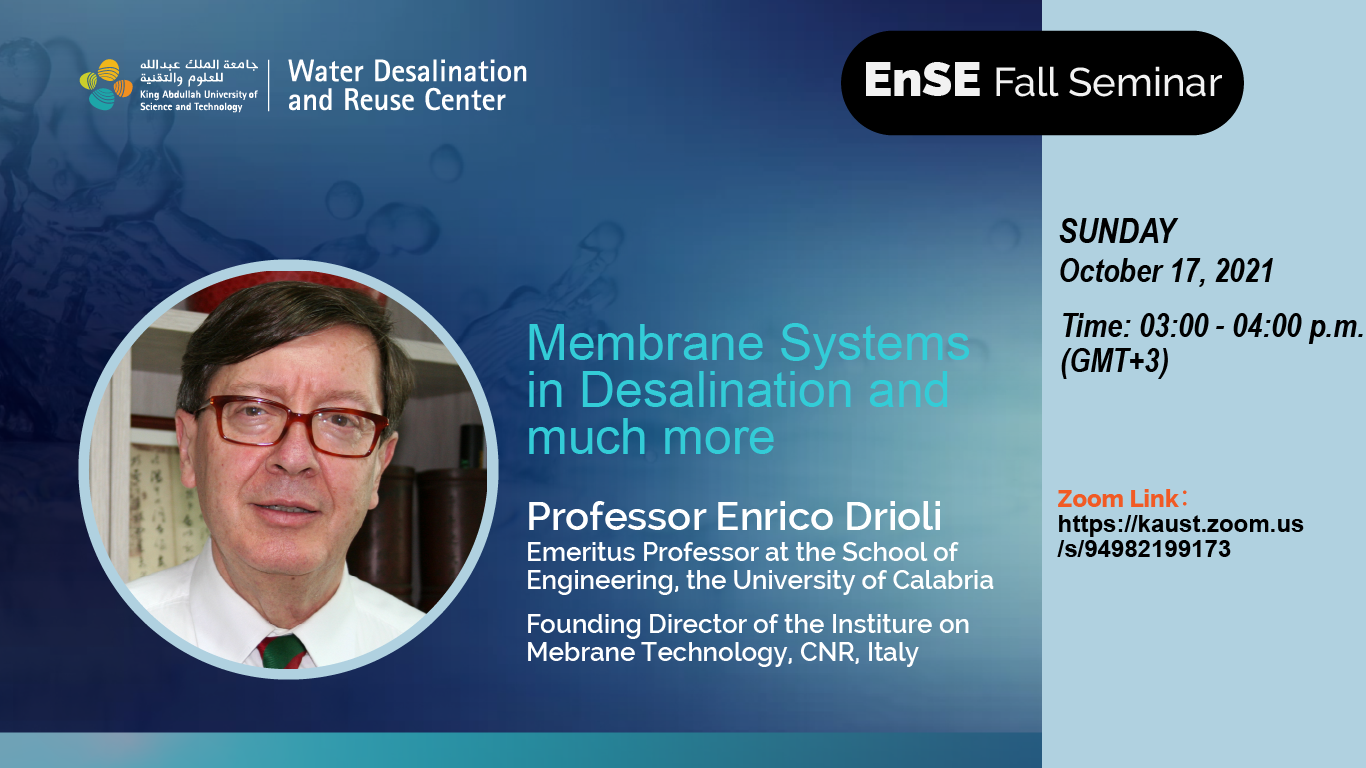 EnSE: Seminar Series
Speaker: Professor Enrico Drioli, Emeritus Professor at the School of Engineering, the University of Calabria | Founding Director of the Institute on Membrane Technology, CNR, Italy
Host: The WDRC Student Committee
Date: Sunday, October 17, 2021, 3:00 - 4:00 p.m.
Membrane Systems in Desalination and much more
Abstract:
It is well acknowledged that Reverse Osmosis (RO) is the dominant technology in desalination. However, it is increasingly common for RO systems to be integrated with other membrane processes according to the logic of Process Intensification (PI) strategy.
The efficiency of desalination systems is highly dependent on the efficiencies of pre- and post-treatment steps, involving membrane systems. More specifically, before entering a RO unit the salt water streams are usually pre-treated with Microfiltration (MF) and/or Ultrafiltration (UF) membranes. On the other side, the RO retentates are often further processed in Membrane Distillation (MD) and/or Membrane Crystallization (MCr) units after RO operation. While MF and UF can be now referred to as well-established technologies, much research effort still needs to be devoted to MD and MCr.
They offer unquestionable advantages such as the ability to function at low temperature gradients (allowing the use of solar energy and/or heat waste), without need to apply external pressures and, in the case of MCr, the opportunity to recover valuable materials such as rare earth elements from brines. However, some problems on MD/MCr technologies are still opened. Mostly, they include temperature polarization, fouling and wetting. Furthermore, due to the undeniable mineral depletion we are witnessing in our time, there is an urgent need to acquire a lot more knowledge towards the development of ultra-selective membranes.
Bio:
Enrico Drioli is an Emeritus Professor at the School of Engineering of the University of Calabria. Founding Director of the Institute on Membrane Technology, CNR, Italy. Since 2018 Distinguished Visiting Professor at Nanjing Tech University, College of Chemical Engineering. Since 2018 Guest Professor of School of Marine Science and Technology of Harbin Institute of Technology, Weihai, P.R.China. Since 2012 Distinguished Adjunct Professor, CEDT King Abdulaziz University, Jeddah Saudi Arabia; 2010-2020 WCU Distinguish Visiting Professor, at the Hanyang University, Seoul Korea; His research activities focus on Membrane Science and Engineering, Membranes in Artificial Organs, Integrated Membrane Processes, Membrane Preparation and Transport Phenomena in Membranes, Membrane Distillation and Membrane Contactors, and Catalytic Membrane and Catalytic Membrane Reactors. He is involved in many International Societies, Scientific Committees, Editorial Boards, and International Advisory Boards. Currently Chairman of the Section on "Membrane Engineering" of the European Federation of Chemical Engineering and coordinator of EU-EUDIME Doctorate School on Membrane Engineering. He has been coordinator of several international research projects. He is Honorary President of European Membrane Society (1999).
He is the recipient of various Awards and Honours, ex. "Richard Maling Barrer Prize" of the EMS, Academician Semenov Medal of Russian Academy of Engineering Science, MIAC International Award for his contributions in the field of Membrane Science and Technologies, etc. He is author of more than 970 scientific papers, 24 patents and 32 books on Membrane Science and Technology.