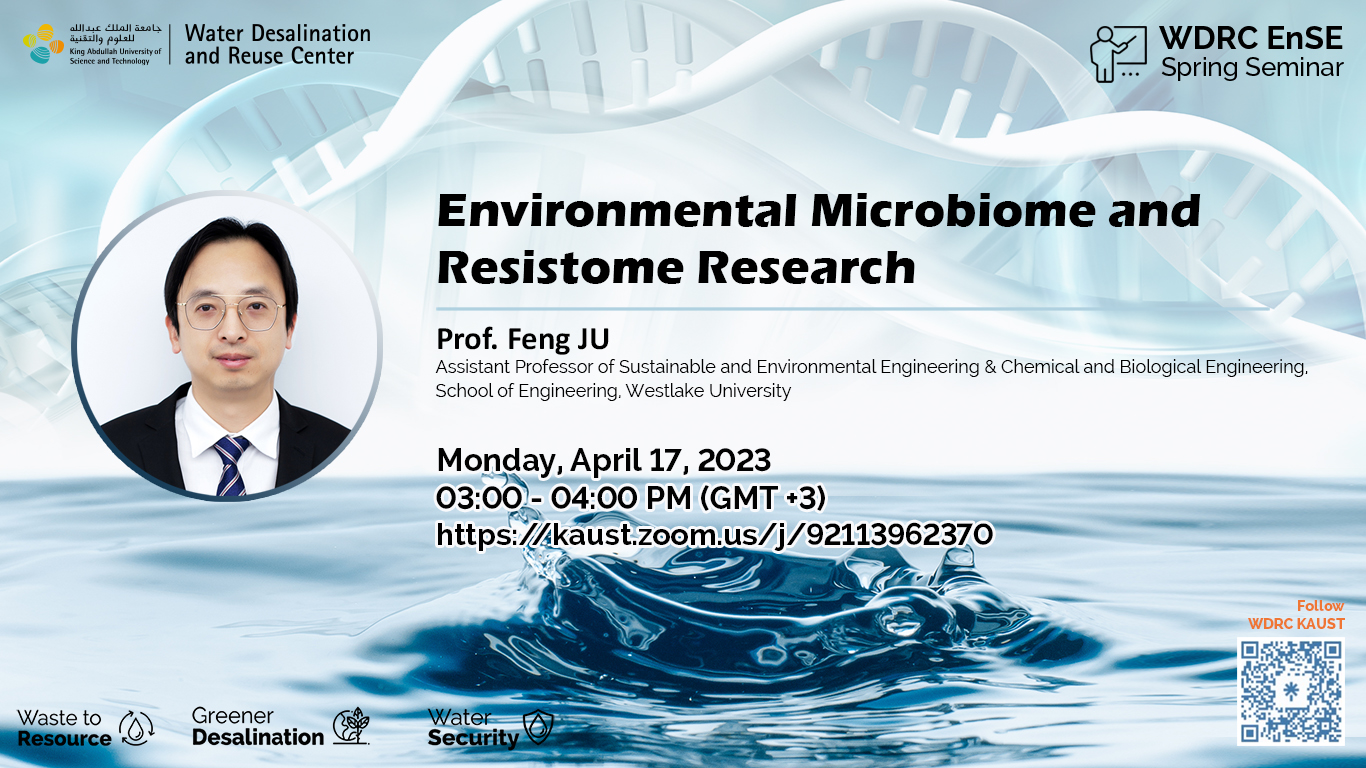 WDRC EnSE Seminar Series
By Prof. Feng Ju, Assistant Professor of Sustainable and Environmental Engineering & Chemical and Biological Engineering, Westlake University
When: Monday| April 17, 2023 | 03:00 - 04:00 p.m. (GMT +3)
Environmental Microbiome and Resistome Research

Abstract:
The microbiome is an emerging field of research on microbial communities (i.e., microbiota) and their "theatre of activity." The past two decades in the 21st century have witnessed a dramatic increase in the application of high-throughput DNA sequencing-based metagenomics and other meta-omics approaches (e.g., metatranscriptomics, metaproteomics, and metabolomics) for exploring and describing various natural (e.g., soil, ocean and air) and anthropogenic (e.g., human guts and bioreactors) microbiomes. The central questions of today's mainstream Microbiome Research should include (but are not limited to): (i) how to identify microbial communities comprehensively and cost-efficiently? (ii) how is the community structured or assembled to determine its function? (iii) how to precisely design and targeted regulate the community function?
In this seminar, I will first give a brief introduction on the background for microbiome research, then talk about the mainstream microbiome methodologies with highlights on our past-decade applications and key findings in exploring the intriguing sciences of microbiome and antibiotic resistome (i.e., the collection of antibiotic resistance genes) in wastewater treatment plants, bioreactors, and other engineered microbial ecosystems. The research outcomes shed light on the microbiome sciences underlying the core functions of wastewater treatment systems and open research avenues for enhancing environmental biotechnology and human health via synthetic communities and microbiome engineering, an emerging solution to tackle challenges in the fields of industrial biotechnology, health & medicine, food & agriculture, environmental biotechnology, and bioenergy by strengthening functional and translational microbiome research and biotechnological innovations that advance the next-generation bioeconomy.
About the Speaker:
Dr. Feng Ju is an Assistant Professor of Sustainable and Environmental Engineering (SEE) & Chemical and Biological Engineering (CBE), the School of Engineering, Westlake University, where he is also co-employed as a Ph.D. supervisor in Biology at the School of Life Sciences. He received his Ph.D. degree in Environmental Engineering from the University of Hong Kong in 2015, followed by a 3-year postdoctoral experience at EAWAG, Switzerland. In 2018, he joined Westlake University to establish the Environmental Microbiome and Biotechnology Laboratory (EMBLab). He authored 68 papers with a Google citation of 4600+ times (H-index 30) and serves as an Associate Editor for Frontiers in Microbiology, a Section Editor of Engineering in Life Sciences, an editorial board member for Engineering (the official journal of the Chinese Academy of Engineering), Environmental Science and Ecotechnology and several other SCI journals, and a reviewer of 20+ SCI journals. He received the 2018 Young Scientist Awards for Microbial Ecology (Outstanding) from the Ecological Society of China, the 2016 Young Scientist Awards from the Hong Kong Institution of Science, etc.