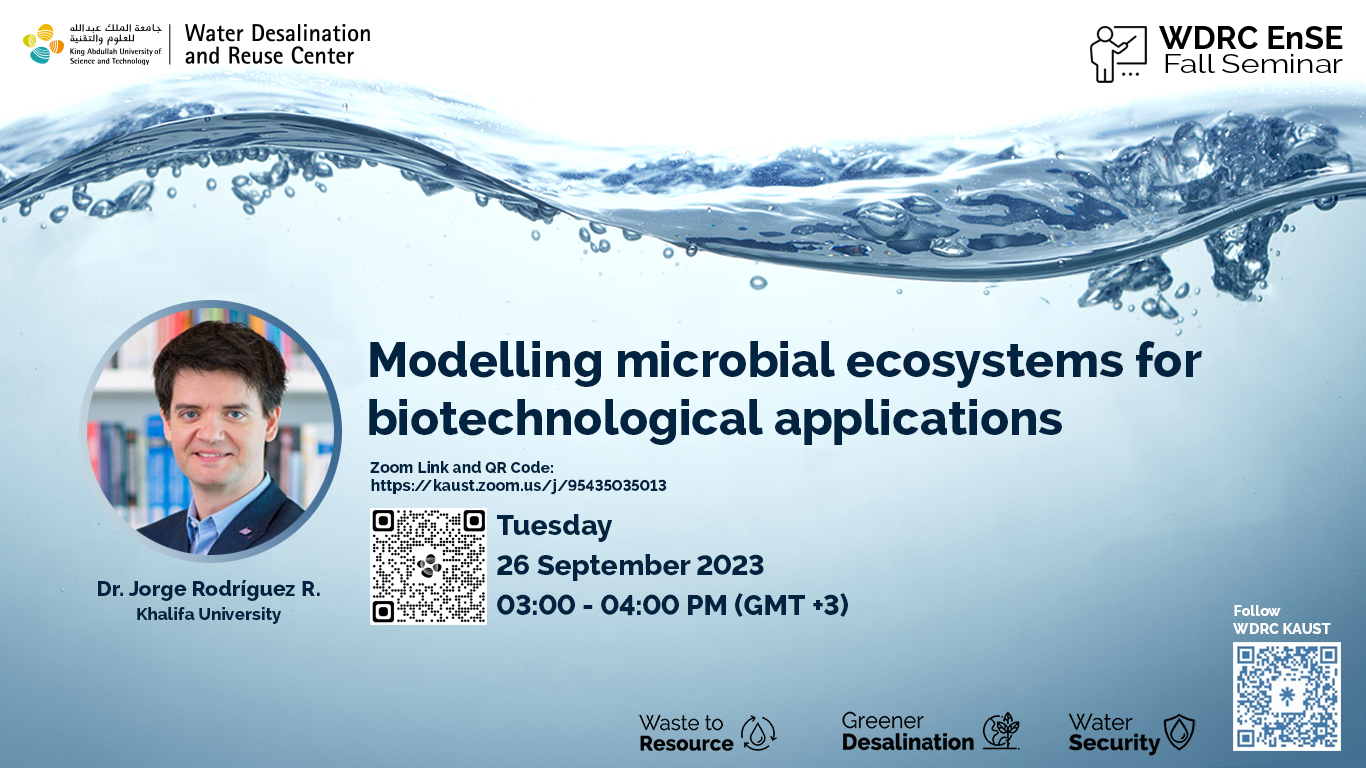 WDRC EnSE Seminar Series
By Dr. Jorge Rodríguez R., Associate Professor of Chemical Engineering, Khalifa University, UAE
When: Tuesday| September 26, 2023 | 03:00 - 04:00 p.m. (GMT +3)
Join Zoom link: https://kaust.zoom.us/j/95435035013
Modelling microbial ecosystems for biotechnological applications
Abstract:
The engineering of microbial communities has a long history of successful top-down designs, especially in the field of wastewater treatment. These approaches do, however, normally neglect the complex metabolic networks driving microbial and chemical transformations as well as the intricate interactions between community members, such as syntrophic interspecies electron transfer. Bridging the gap between top-down and bottom-up approaches in microbial ecosystem engineering requires both an understanding of how operational/environmental conditions provide an ecological advantage to microbial traits of interest and, at the same time, a means to propose or evaluate among metabolic engineering options. In microbial ecosystems under energy limitations, this can be achieved with good metabolic models that describe the energy trade-offs involved. Maximum growth rate, especially in energy-limited systems, sits on the trade-off front between high energy efficiency (yield) and sufficiently large driving forces (rate). Understanding the impact of environmental/operational conditions on these trade-offs directly bridges the gap between top-down and bottom-up approaches in microbial community engineering to develop sustainable bioprocesses at much lower costs.
About the speaker:
Dr. Jorge Rodríguez is an Associate Professor of Chemical Engineering at Khalifa University. He holds a Ph.D. in Chemical and Environmental Engineering (2006) and an MEng and BEng in Chemical Engineering (2001) from the University of Santiago de Compostela (USC), Spain.

Dr. Rodríguez is currently Editor for the scientific journal Water Science & Technology. In 2019, he was elected co-Chair and Secretary of the IWA Anaerobic Digestion Specialist Group, which involves over 2,400 members. He also serves on other editorial boards, such as for the journal Water Research or PLoS Water.

As the principal investigator of the Environmental Bioprocess Modelling Lab, he leads a dynamic team of graduate students and researchers. His lab maintains a network of collaborations, including the UQ(AU), USC(ES), INRA(FR), and TUDelft (NL), as well as the University of South Wales (UK), where he currently holds a Visiting Professor appointment.

Dr. Rodríguez has more than twenty years of research experience and has published his research extensively in scientific journals and conferences. His research interests focus on the modelling and development of microbial environmental biotechnology processes, including anaerobic digestion, microbial fermentations, and bioelectrochemical systems. Recently, amid the COVID-19 pandemic, he has expanded his research activities to the health sector through epidemiology modelling of the impact of interventions, vaccination strategies, and international travel, and since 2020, he has been advising Abu Dhabi's health authorities on the topic.