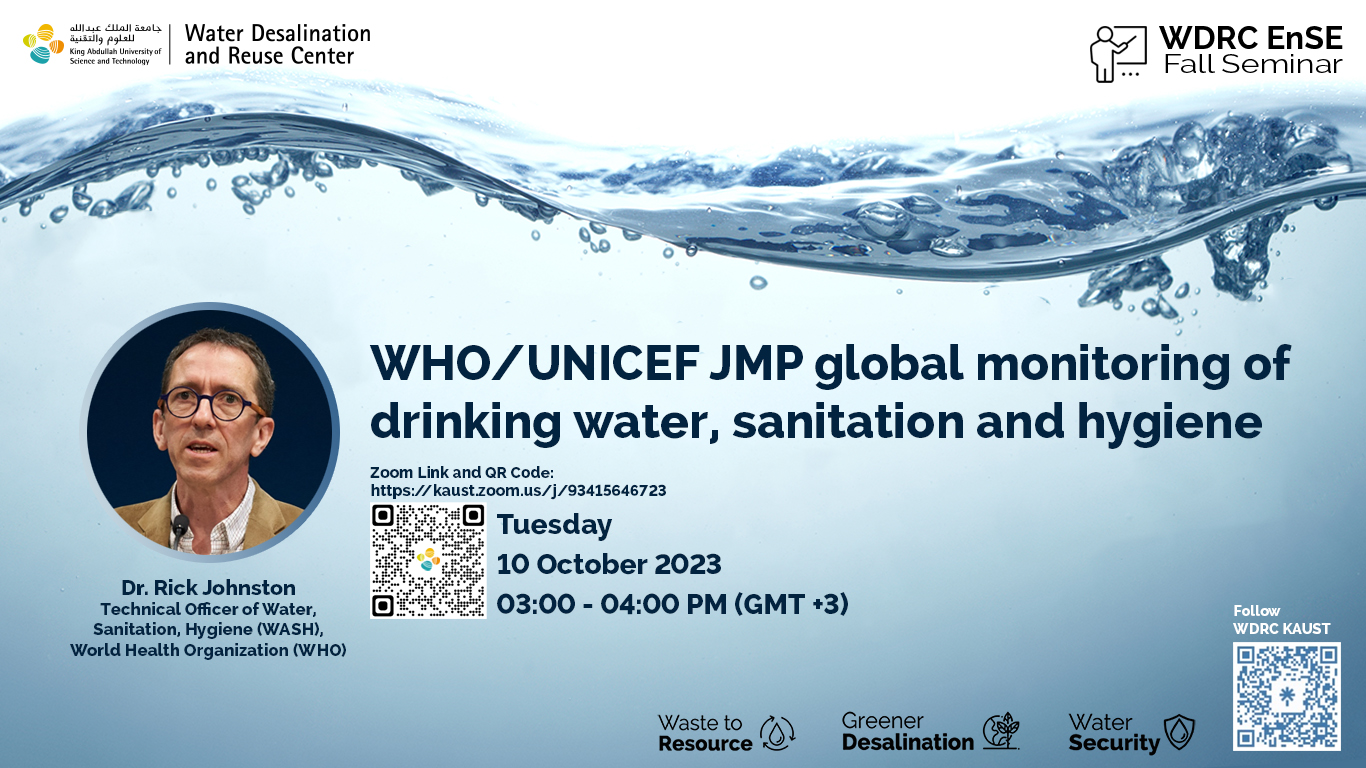 WDRC EnSE Seminar Series
By Dr. Rick Johnston, Technical Officer of Water, Sanitation, Hygiene (WASH), WHO
When: Tuesday| October 10, 2023 | 03:00 - 04:00 p.m. (GMT +3)
Join Zoom link: https://kaust.zoom.us/j/93415646723
WHO/UNICEF JMP global monitoring of drinking water, sanitation and hygiene
Abstract:
The WHO/UNICEF Joint Monitoring Programme (JMP) produces internationally comparable estimates of progress on drinking water, sanitation, and hygiene (WASH) and is responsible for global monitoring of the Sustainable Development Goal (SDG) targets related to WASH. This presentation will review the scope of monitoring conducted by the JMP, with a focus on the highlights from the JMP 2023 report on WASH in households, with a thematic focus on gender.
About the speaker:
Dr. Rick Johnston is a Technical Officer in the unit of Water, Sanitation, Hygiene (WASH) and Health at the World Health Organization. He co-leads the WHO/UNICEF Joint Monitoring Programme on Water Supply, Sanitation and Hygiene (JMP), which maintains global databases about WASH services in households, schools, and health care facilities. He also leads WHO's work on monitoring wastewater generation and treatment in collaboration with UN-Habitat. He is active in programs that make use of these data, such as estimating the burden of disease related to inadequate WASH. He co-leads or contributes substantially to the monitoring of multiple SDG indicators (1.4.1, 3.8.1, 3.9.2, 4.a.1, 6.1.1, 6.2.1a, 6.2.1b, 6.3.1).
Current priority interests include strengthening national systems for the collection, analysis, and use of data on WASH and wastewater services in different settings and making use of data to highlight underserved populations.

Prior to joining WHO in 2013, he was the team lead for water supply and treatment at the Swiss Federal Institute of Aquatic Science and Technology (Eawag) for four years, working primarily on water quality research in Africa and Asia. Between 1996 and 2009, he spent seven years in Bangladesh, working with UNICEF on arsenic mitigation.

Rick holds degrees in environmental engineering from the University of North Carolina at Chapel Hill (Ph.D.) and the Johns Hopkins University (MSc). His technical background is in drinking water treatment, with a specialization in arsenic chemistry. He is an author of over 80 publications, with over 6000 citations and an h-index of 37.

Rick is married with two adult children. He enjoys reading, bicycling, and singing classical music.