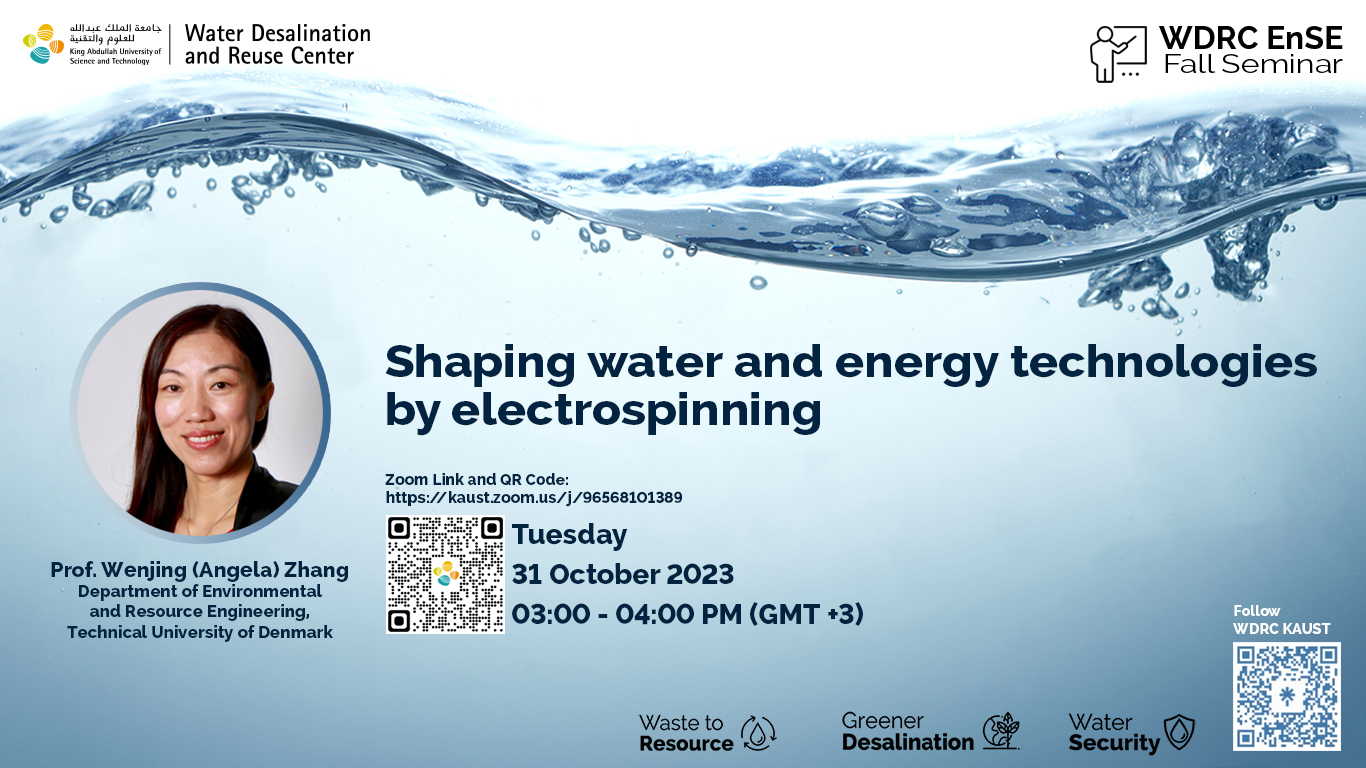 WDRC EnSE Seminar Series
Speaker: Professor Wenjing (Angela) Zhang, Department of Environmental and Resource Engineering, TDU, Denmark
When: Tuesday| October 31, 2023 | 03:00 - 04:00 p.m. (GMT +3)
Shaping Water and Energy Technologies by Electrospinning
Abstract:

Electrospinning is a paramount technique in fabricating nanofiber materials, boasting a spectrum of applications spanning energy conversion, catalytic chemistry, and both liquid and gas filtration. This method offers hierarchical structures from diverse materials encompassing polymers, metals, ceramics, carbon and composites, enabling us to fine-tune performance and functionality for water and energy applications. Moreover, the recent advancements in electrospinning apparatus offer the capability of yielding several thousand square meters daily. Such progress bridges the gap between advanced material research and the imminent commercialization of novel products tailored for environmental sectors.
This presentation will provide an overview of our electrospinning research work undertaken at DTU, with a special focus on water treatment and microplastic upcycling.
About the speaker:
Associate Professor Wenjing (Angela) Zhang and her research group at DTU aim to develop scalable and sustainable technologies to address energy and water challenges facing our world. She designs new technologies and builds prototypes for water treatment and reuse, Power-to-X, and fuel cells by leveraging novel materials and membrane processes. Especially with her interdisciplinary research background, she has been advocating sustainable water use for Power-to-X in Denmark, such as mining wastewater and waste energy to supply ultrapure water for electrolysis.

Angela holds a Bachelor's degree in Polymer Materials, a Master's degree in Physics, a Ph.D. degree in Chemical and Biomolecular Engineering, and an Executive MBA degree in Management of Technology. She is currently leading a Research Group in the Department of Environmental and Resource Engineering at the Technical University of Denmark. She is the principal investigator (PI) and co-PI of several European and Danish innovation projects focusing on water and energy, with research experience in Asia, North America, and Europe.