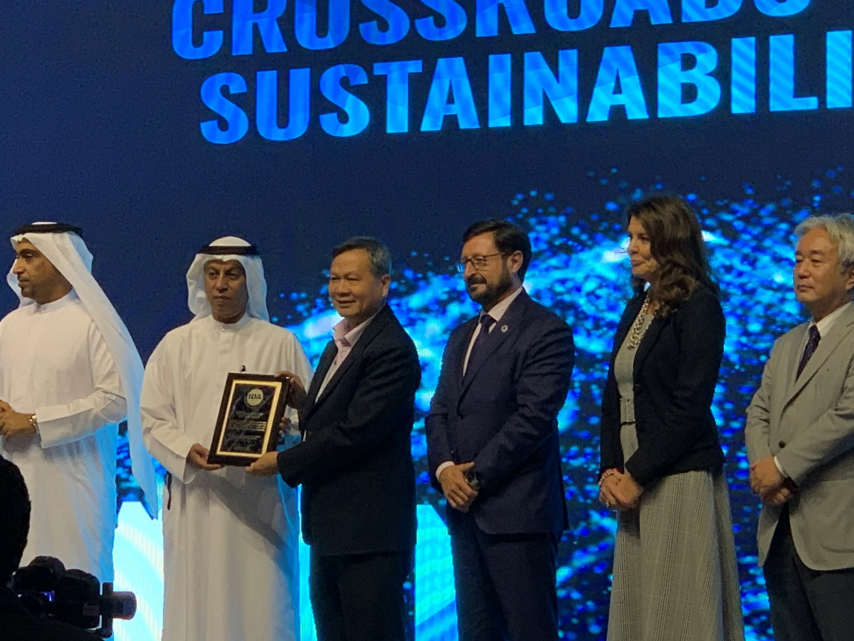 The award was presented by H.E. Saeed Mohammad Al Thayer, DEWA(Dubai). Standing beside him is IDA President, Mr. Miguel Sanz, Ms. Shannon MaCarthy, IDA Secretary-General and Dr. N Fujiwara, a Director of IDA Board. (Picture is provided by Mr. Paul Buijs of WDRC.)
Prof. Kim Choon Ng is the recipient of the best paper award in the category of Environment & Sustainability at The International Desalination Association World Congress 2019 held in Dubai, UAE, on Oct. 20-24, 2019.

Prof. Ng presented an innovative desalination cycle that mimics a tropical cyclone over the seas where the intense liquid flashing phenomena occurred due to the enthalpy difference between the warm seawater and the low pressure in the rotating vortex core. This desalination phenomenon is the subject of his study in his lab-scale pilot at KAUST. Prof. Ng's research could significantly improve the energy efficiency of desalination, achieving 22% of the thermodynamic limit as compared to less than13% of the conventional desalination methods. The IDA selected his paper from over 200 submissions.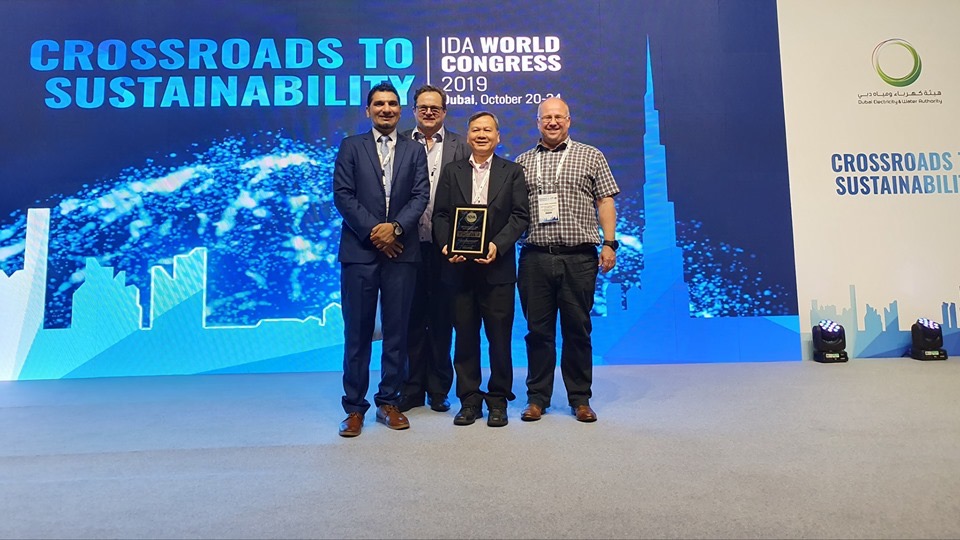 Dr. Muhammad Shahzad (left), Prof. Kim Choon Ng (center), Prof. Johannes Vrouwenvelder, WDRC Director (right), Mr. Paul Buijs, Center Liaison Officer (back)
"I share this recognition with my team members, Drs. Muhammad Shahzad, Muhammad Burhan, and Doskhan Ybyraiymkul. Our innovative solar-powered cyclone-enhanced seawater desalination could be a game-changer for future desalination industry", Prof. Kim Choon said.

The biennial IDA World Congress is the world's most anticipated and prestigious desalination and water reuse event attended by public and private sector leaders, researchers, and academics in the fields of desalination, water reuse, energy, environment and project finance.