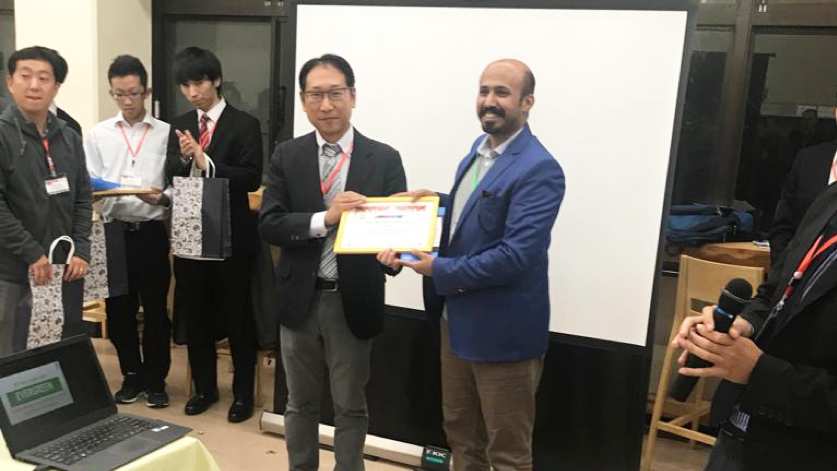 Professor Miyazaki, IMAT 2019 Chairman presented the award to Raid AlRowais, at Kyushu University, Japan.
The Water Desalination and Reuse Center extends a warm congratulations to Raid Alrowais, a Ph.D. student in Prof. Kim Choon Ng's group for winning the best paper award at the International Meeting on Advances in ThermoFluids - IMAT 2019, held on November 7-8, at Kyushu University, Kasuga, Japan. The event was attended by over 150 participants from more than 10 countries.

The International Meeting on Advances in ThermoFluids welcomes the latest development in the science and engineering research in the fields of fluid mechanics, heat transfer, thermodynamics, combustion and all topics related to thermal fluids.

Raid presented his Ph.D. research work in the area of direct-contact spray assisted evaporation (DCSE) with enhancement using the microbubble generator for given higher water desalination yields up to 35% more as compared with the conventional DCSE. He demonstrated a low Capex and Opex operational characteristics of the DCSE system, with a unit cost of water at merely US$0.50 per m3.

Raid AlRowais is an assistant professor who is currently on study leave from Al Jouf University, KSA.