On November 28th, the Water Desalination and Reuse Center actively took part on the first day of the KAUST Research Open Week. The KROW is a week-long event on campus with the aim to promote internal collaboration and celebrate excellent science. The center planned the activities to highlight the research areas and made a great effort to translate concepts to be easily understood by a broader audience.

The day started with members from the center successfully delivering their presentations at the Scientific Talks. In this session, KAUST researchers presented a wide range of scientific talks across the major focus thrusts: Environment, Water, Energy, Food, Health, and the Digital Domain. A prize will be awarded for the "Best Talk" for the early career researchers.
Presenter: Javier Blanco Sacristán | Title: Assessment of mangrove distribution and potential for afforestation in the Red Sea
Presenter: Kasper Johansen | Title: Remote Sensing for Precision Agriculture
Presenter: Dario Rangel Shaw | Title: Electro-anammox: A novel anaerobic process for the oxidation of ammonium by anammox bacteria
Presenter: Julie Melissa Sanchez Medina | Title: Disrupting the current municipal wastewater treatment paradigm through anaerobic membrane bioreactor
A separate team welcomed questions at the Science on the Spine booths located outside the KAUST Library from community members and students from Jeddah.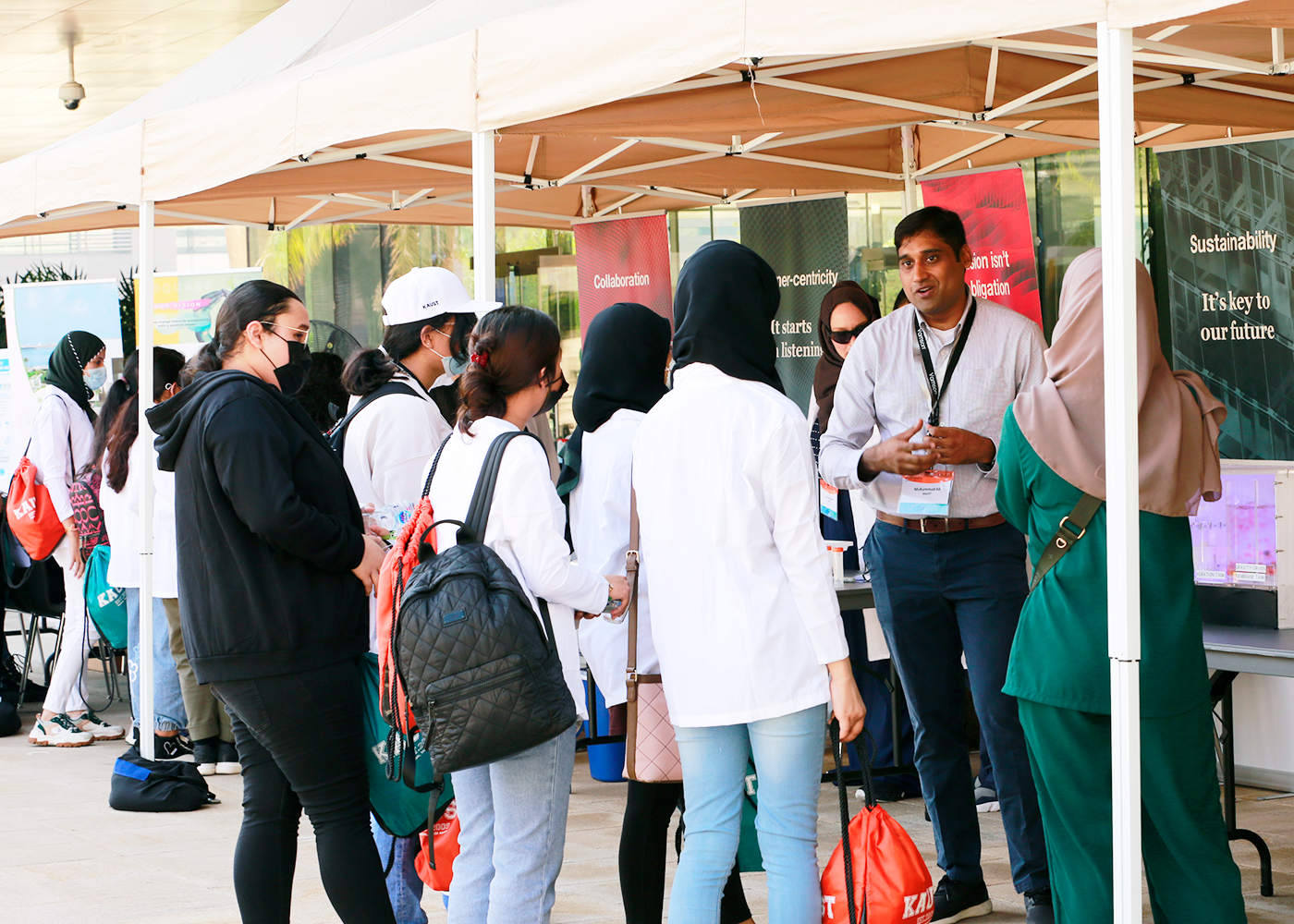 A mini-scale set up of the decentralized wastewater treatment and reuse system was presented by Dr. Muhammad Ali.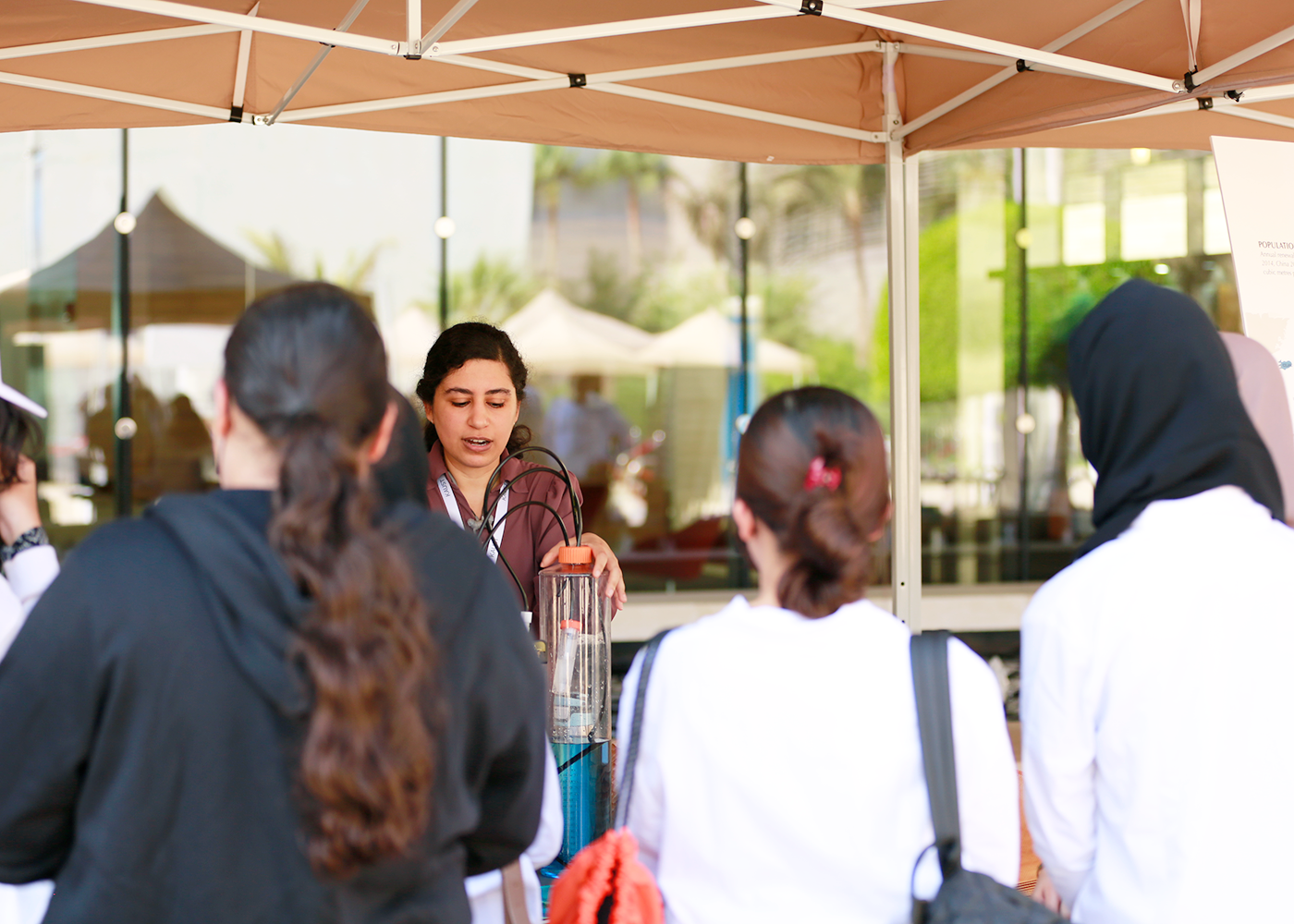 Sarah Almahfood, a Ph.D. student explained the process of desalinating seawater using the mini-scale reverse osmosis system.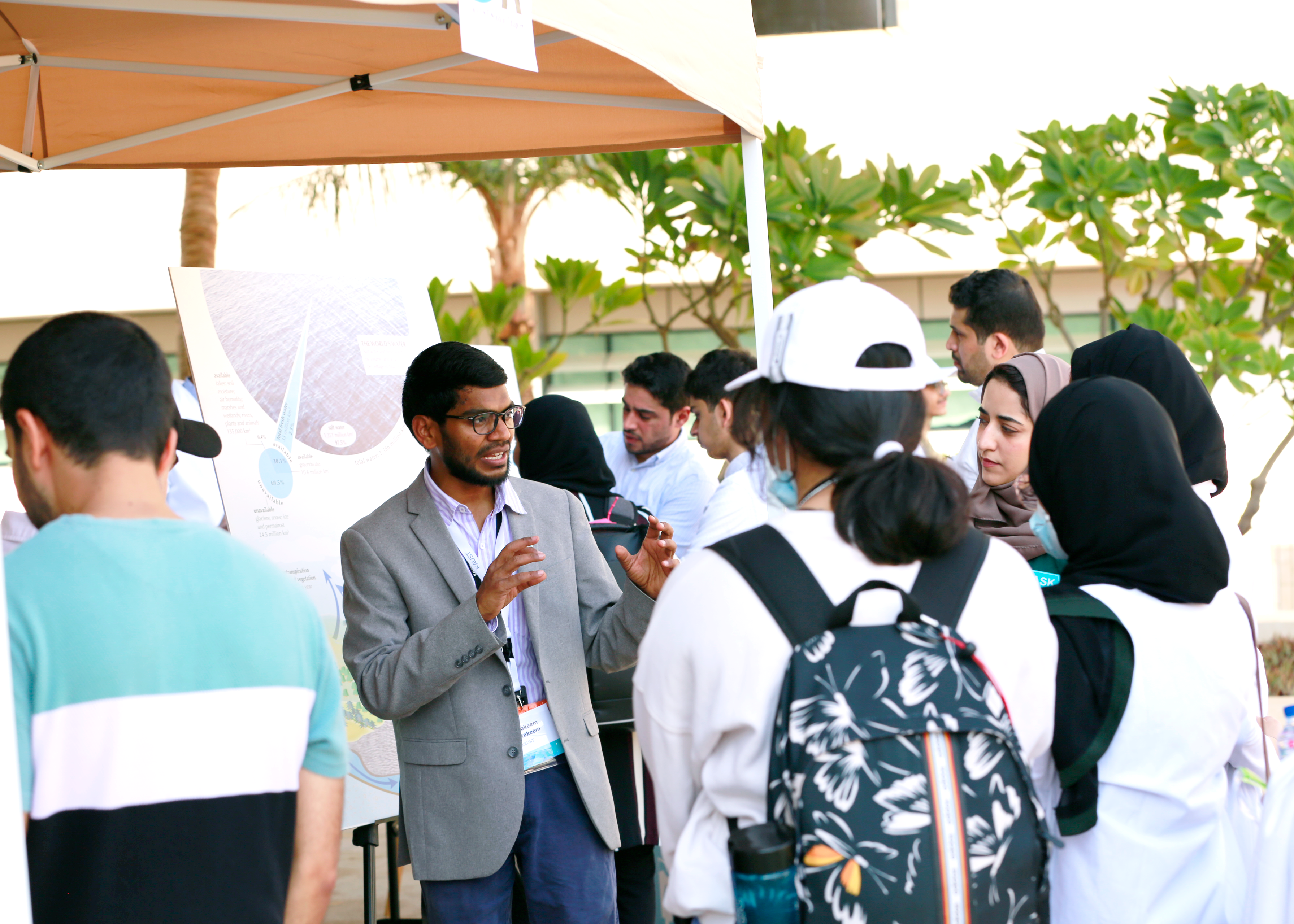 Ph.D. candidate M. Mustakeem discussed general information about water sustainability, scarcity, and remediation;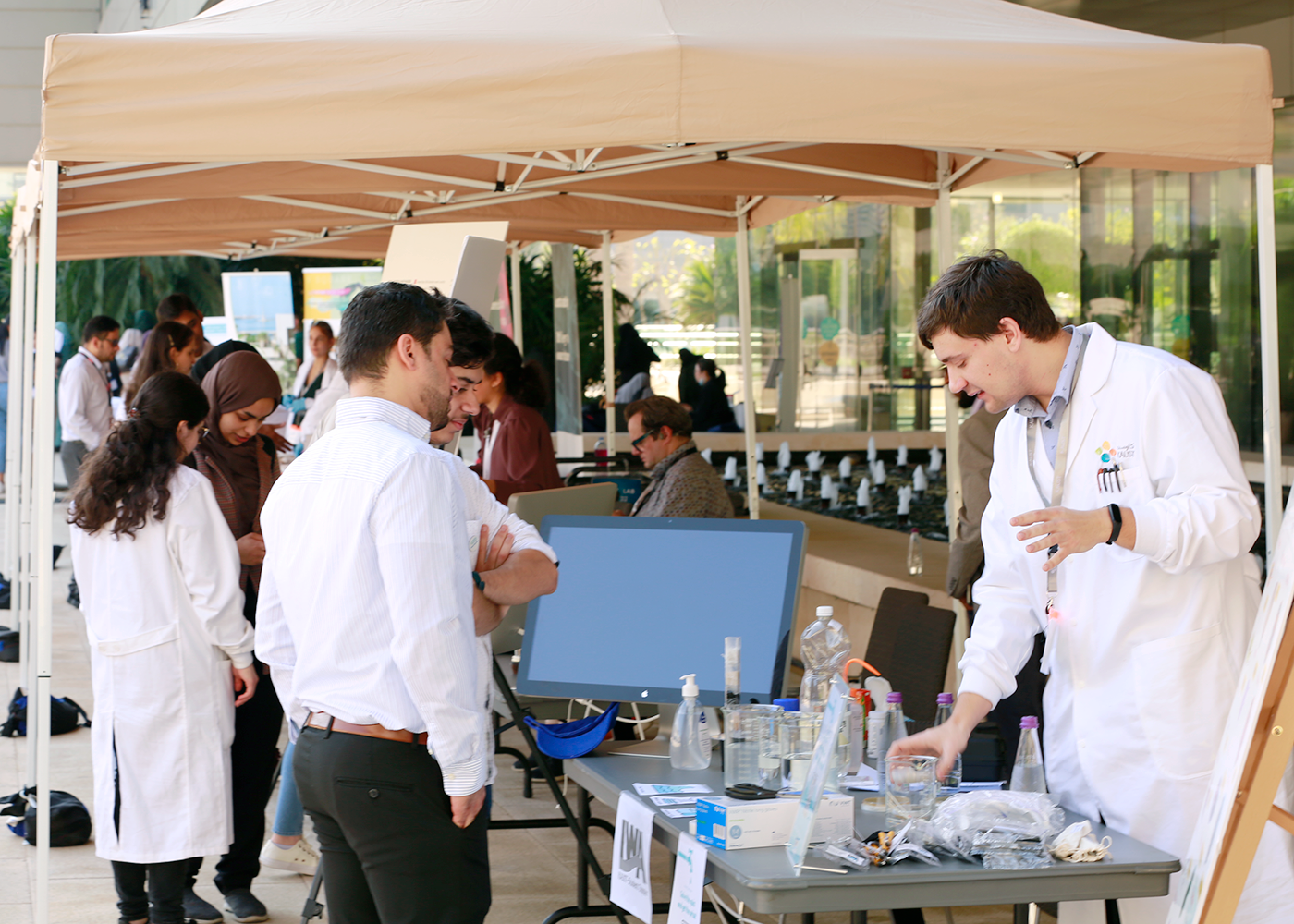 Yevhen Myshkevych from Prof. Hong's group discussed more general information on water parameters and factors of wastewater treatment.
The center would also like to acknowledge the members who participated in the poster session at the KAUST Library:
Presenter: Hari Ananda Rao | Title: Recycling biosolids to hydrogen energy and bio-plastics production
Presenter: Harun Elcik | Title: Multi-effect distillation (MED) brine treatment by membrane distillation: Evaluating the membrane performance and scaling behavior
Presenter: Julian Tobon-Gonzalez | Title: Marine anammox bacteria: energy-efficient treatment of saline wastewater
Presenter: Kasper Johansen | Title: Tracking Coastal Water Flows with Unmanned Aerial Vehicles
Presenter: Kees Theo Huisman | Title: Smart process operation to modulate biofilm development and improve system performance in membrane filtration
Presenter: Kennedy Odokonyero | Title: Nature-inspired Wax-coated Jute Bags as Sustainable Technologies for Reducing Postharvest Losses of Stored Grains
Presenter: Laura Milena Pulido Beltran | Title: Early biofouling detection and enhanced cleaning protocols for biofouling control in membrane filtration processes
Presenter: Luisa Javier | Title: Feed water nutrient composition: impact on biofilm growth and performance of desalination membranes
Presenter: Mohammed Alomari | Title: Aerobic Granular Sludge (AGS) Process for Energy-efficient Treatment of Saline Wastewater
Presenter: Mustakeem Mustakeem | Title: Water desalination using Membrane distillation integrated with localized heating
Presenter: Natalia Franco Clavijo | Title: Operational performance parameters and biofilm characterization in a membrane filtration system fed with real seawater
Presenter: Shuo Zhang | Title: Integrating advanced oxidative process and anaerobic membrane bioreactor as an efficient and sustainable solution to treat petroleum refinery wastewater
Presenter: Ting Li | Title: Three decades of center-pivot dynamics: a retrospective analysis of agricultural development in Saudi Arabia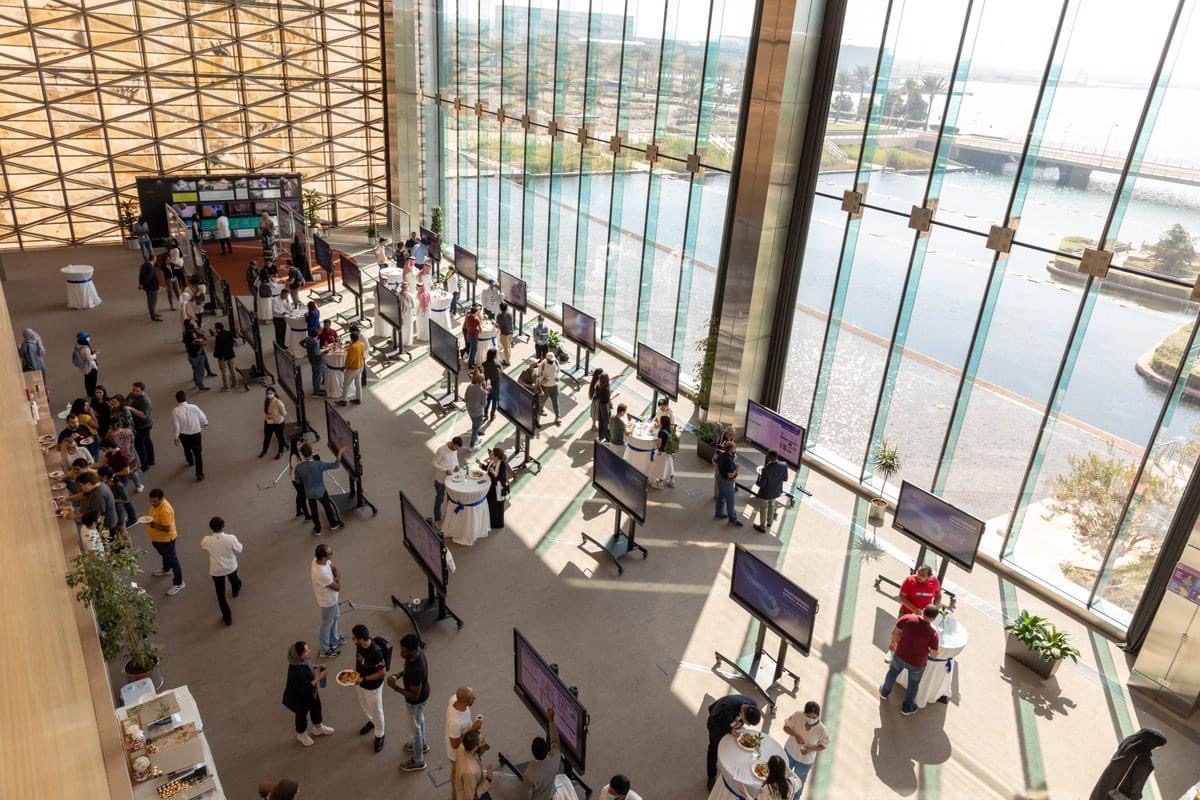 The poster session was a great opportunity to learn about the excellent work performed in KAUST and network with fellow researchers.
Finally, the WDRC Open House capped off the proceedings. A significant turn-out from SWCC, ACWA Power, ARAMCO, SABIC, NEOM, King Abdulaziz University (KAU), Al Faisal University, and Thuwal School drew a lot of discussion with our students and researchers.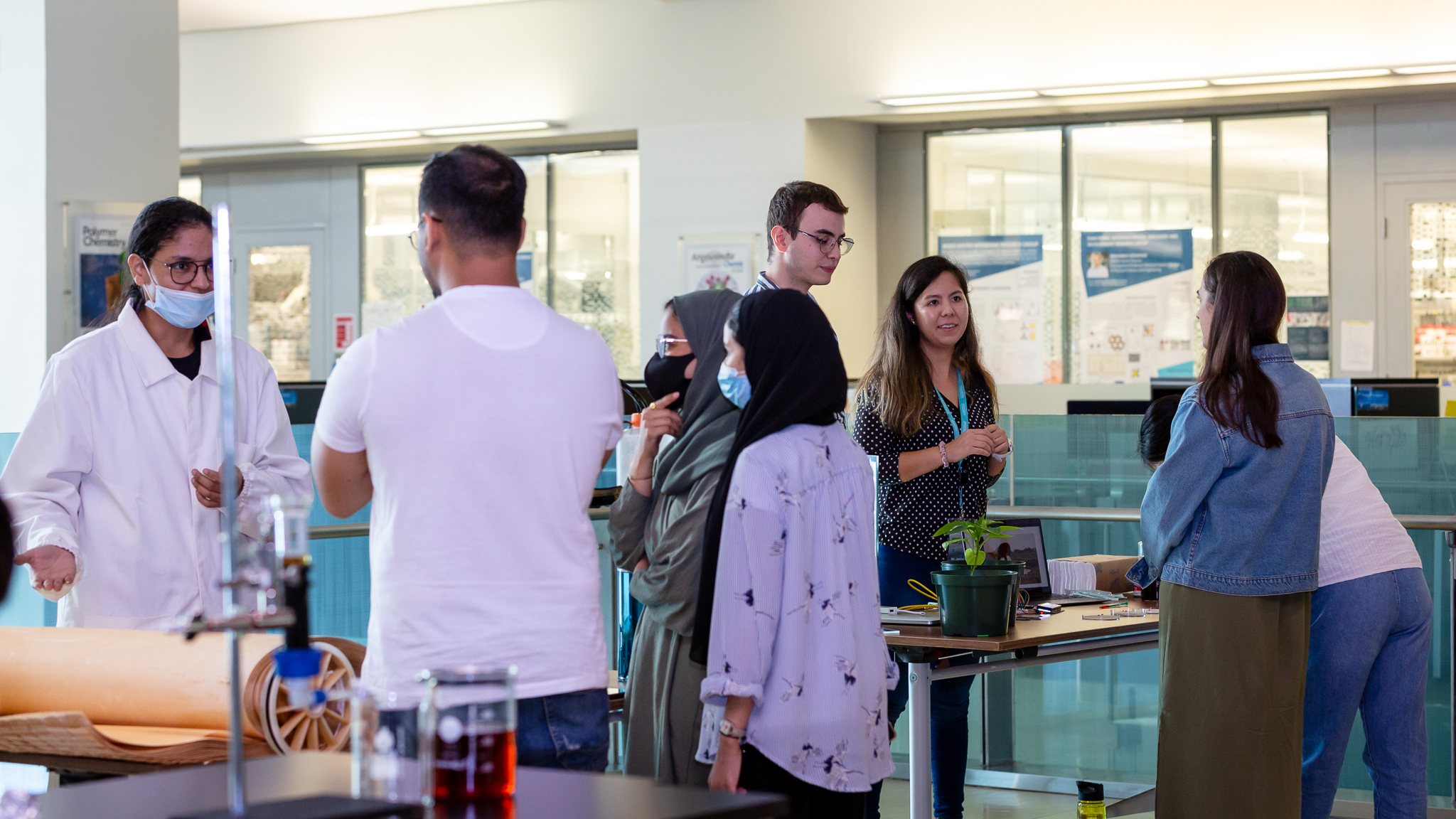 Ana Maria Rodriguez, visiting student (left) presented the mini-scale reverse osmosis system; Jamilya Nauruzbayeva, Ph.D. candidate (right) presented the SandX, a hydrophobic sand which helps retain moisture in crops thereby producing more yield with less water.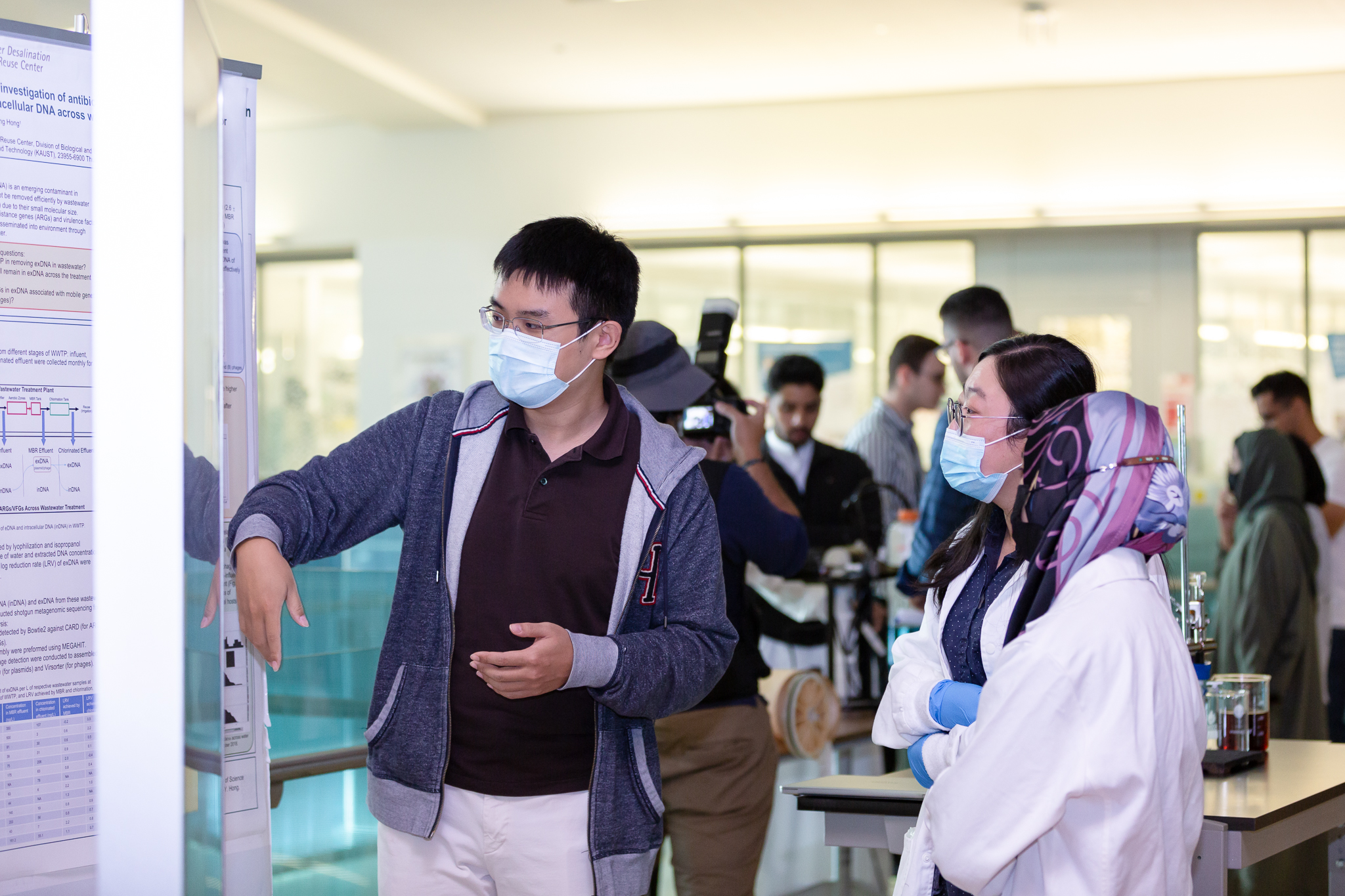 Ph.D. student, Changzhi Wang shared his work about emerging contaminants in reclaimed water. His poster "Metagenomic investigation of antibiotic resistance genes and virulence factor genes in extracellular DNA across wastewater treatment processes" won the best poster award at the 9th IWA MEWE Specialist Conference in October.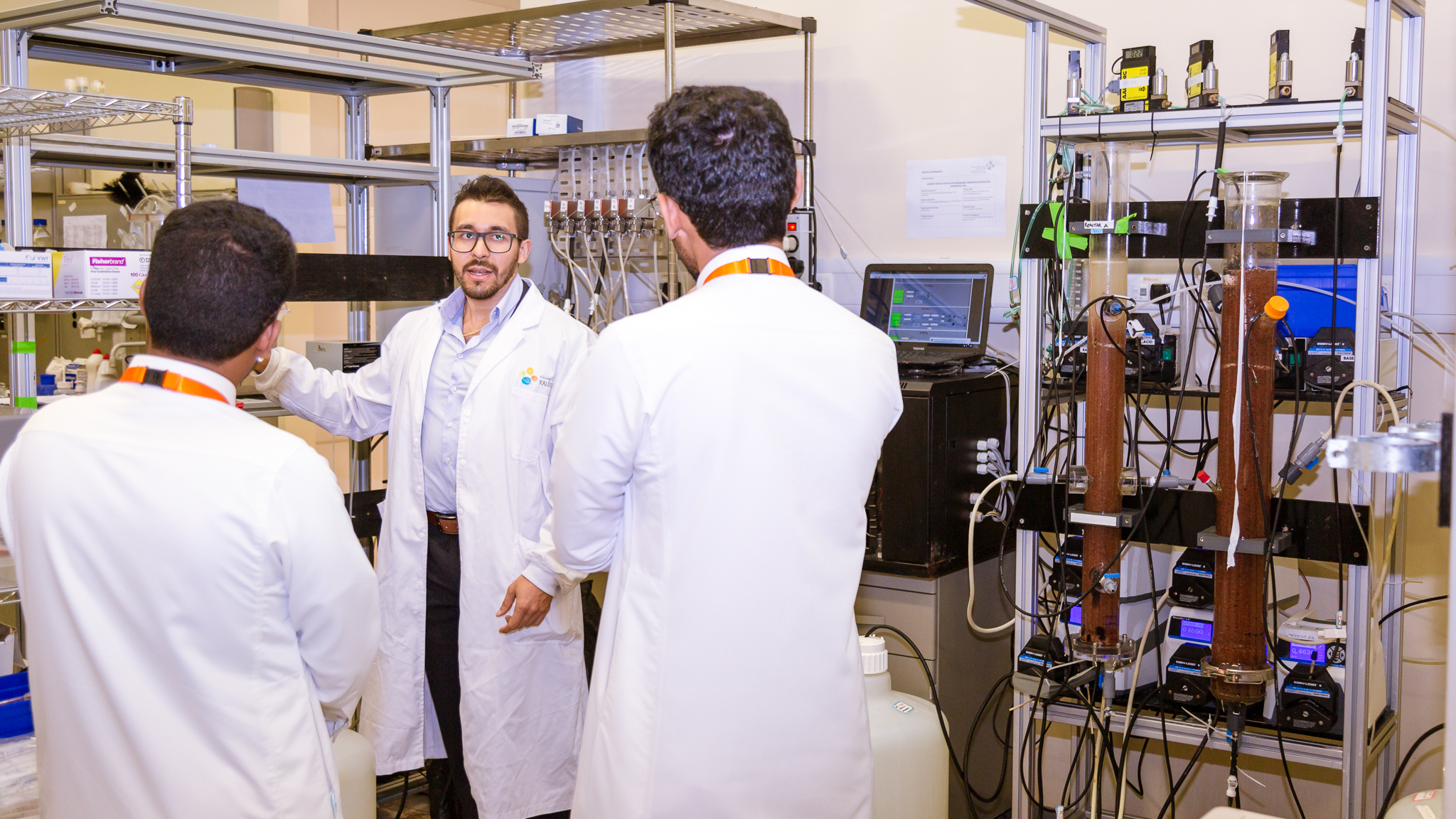 Dr. Dario Rangel Shaw, postdoctoral fellow presented how electro-annamox process could help recover precious resources from wastewater while achieving energy-efficient treatment.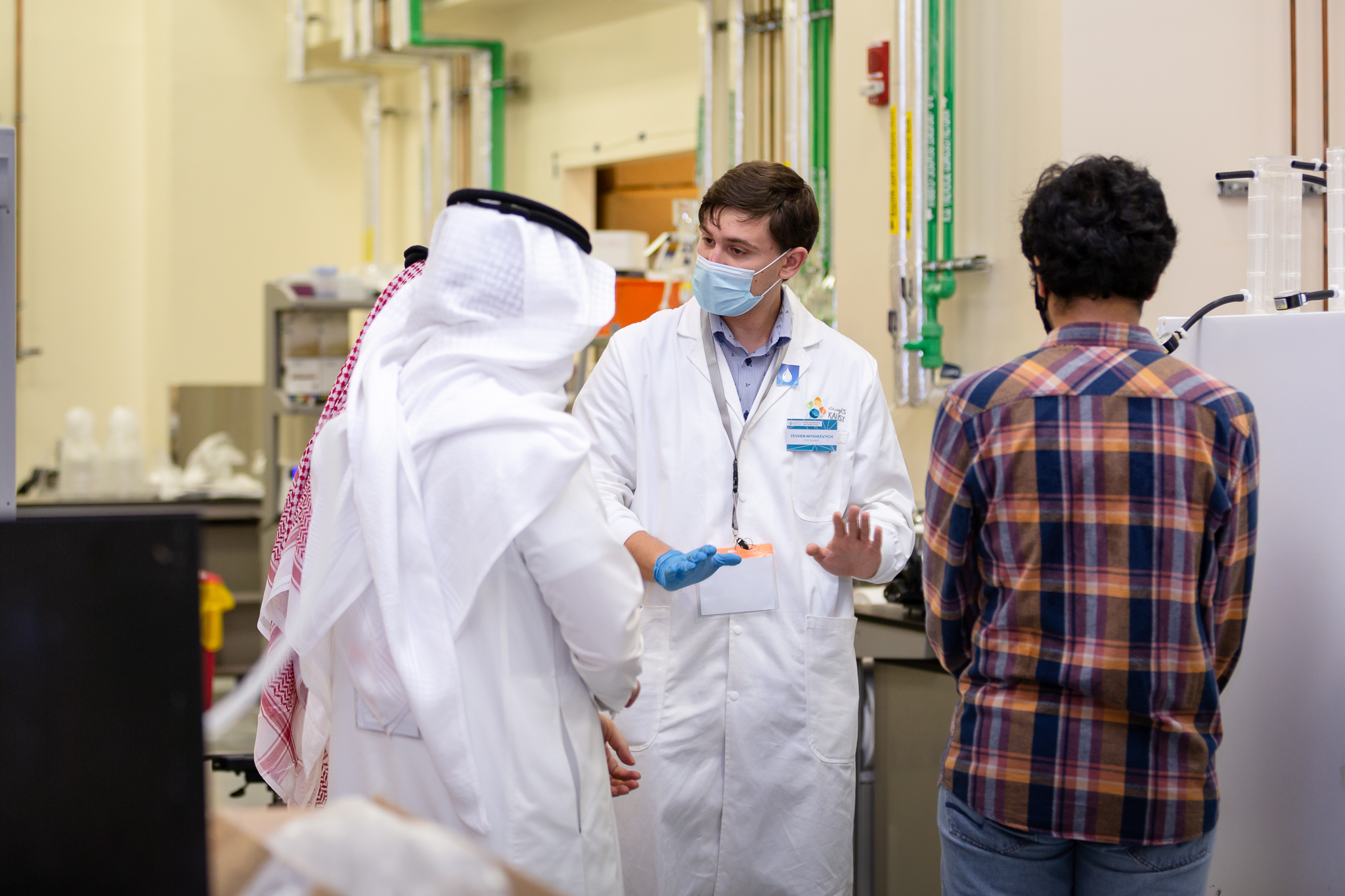 Yevhen Myshkevych, a Ph.D. student discussed an environmentally friendly way to clean membrane.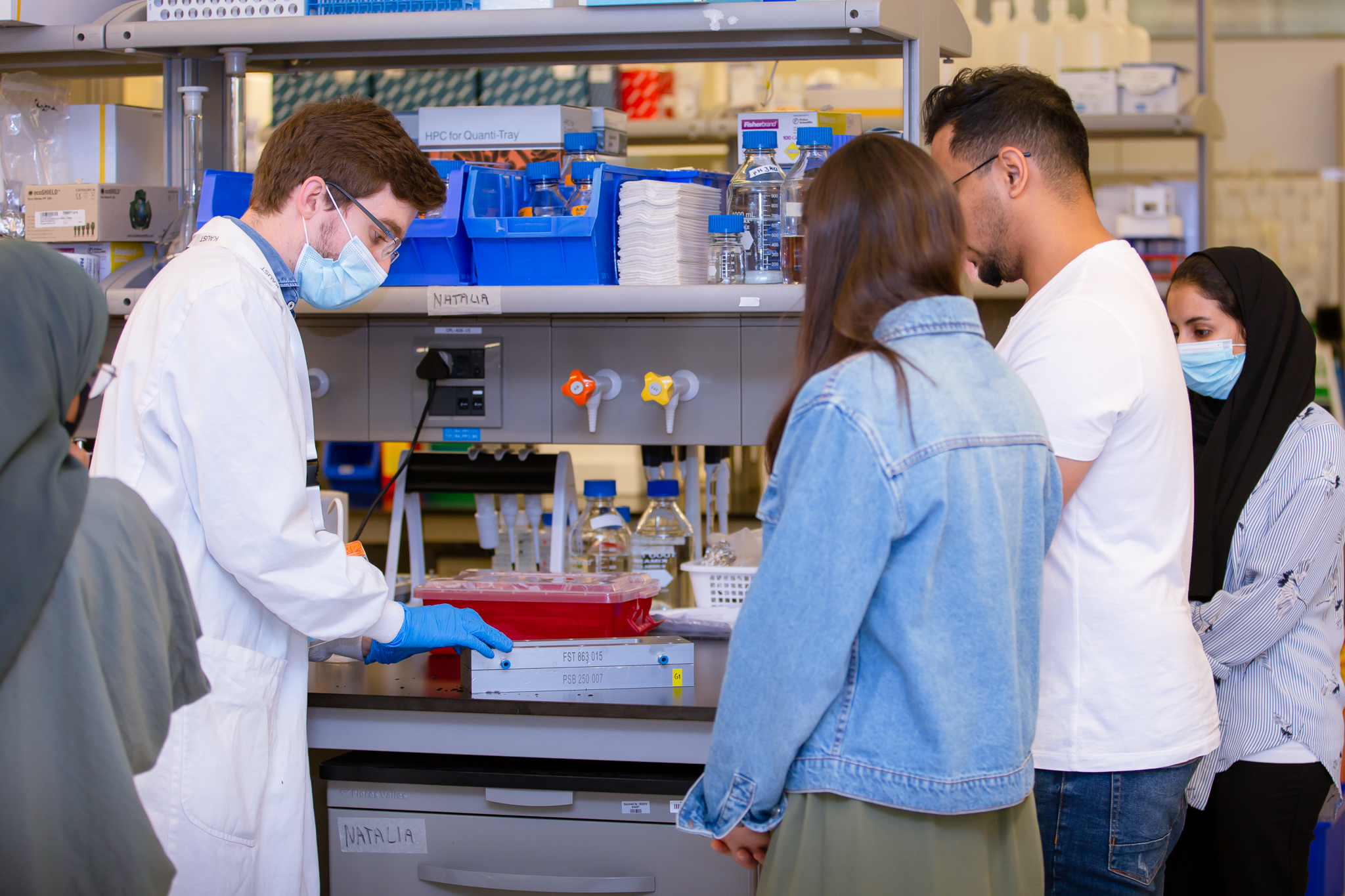 Theo Huisman, a Ph.D. student in Prof. Vrouwenvelder's group explained biofilm imaging.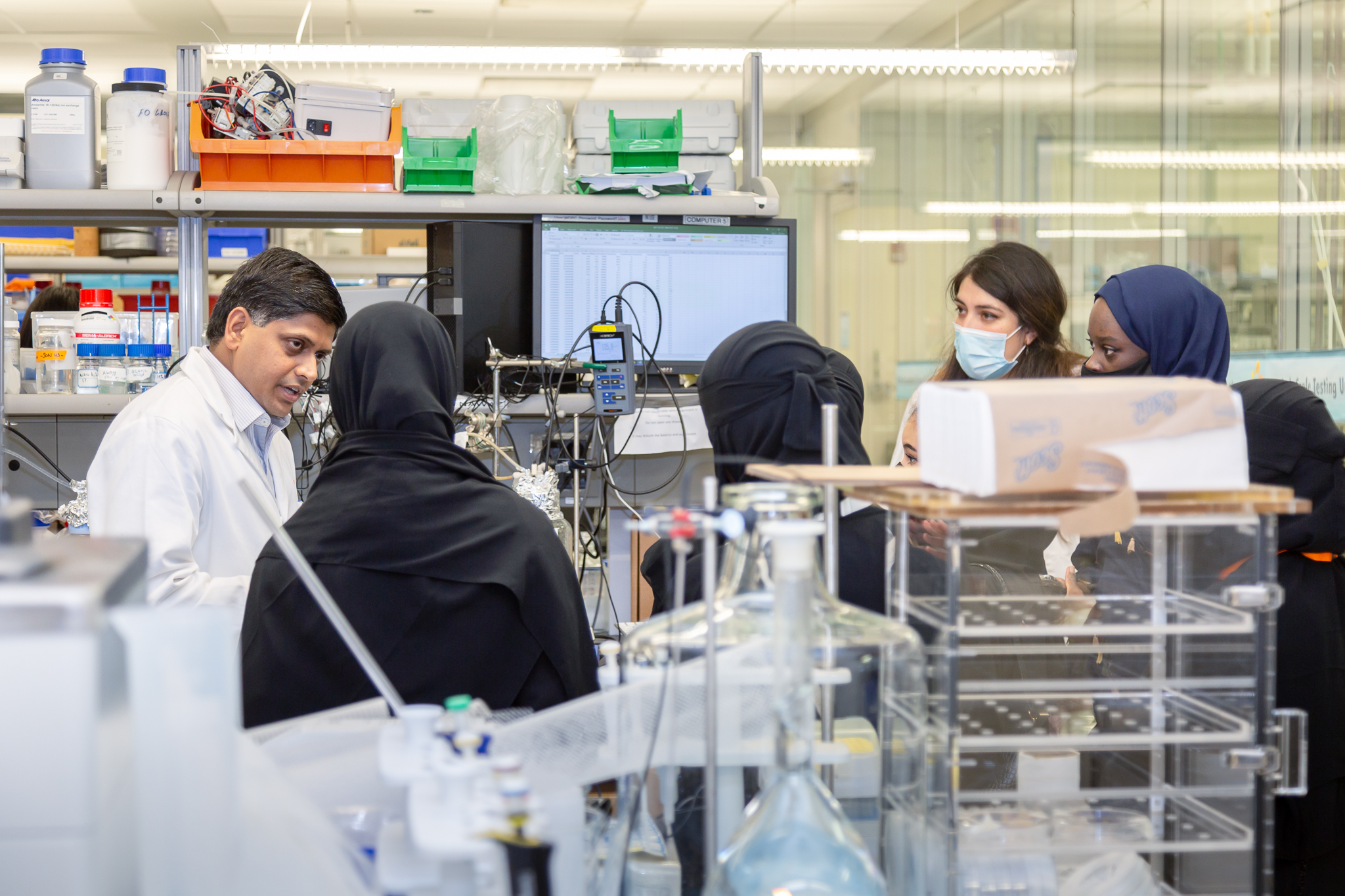 Dr. Muhammad S. Nawaz, postdoctoral fellow presented the successful treatment of real produced water with forward osmosis and membrane distillation (FO-MD) hybrid system at bench scale.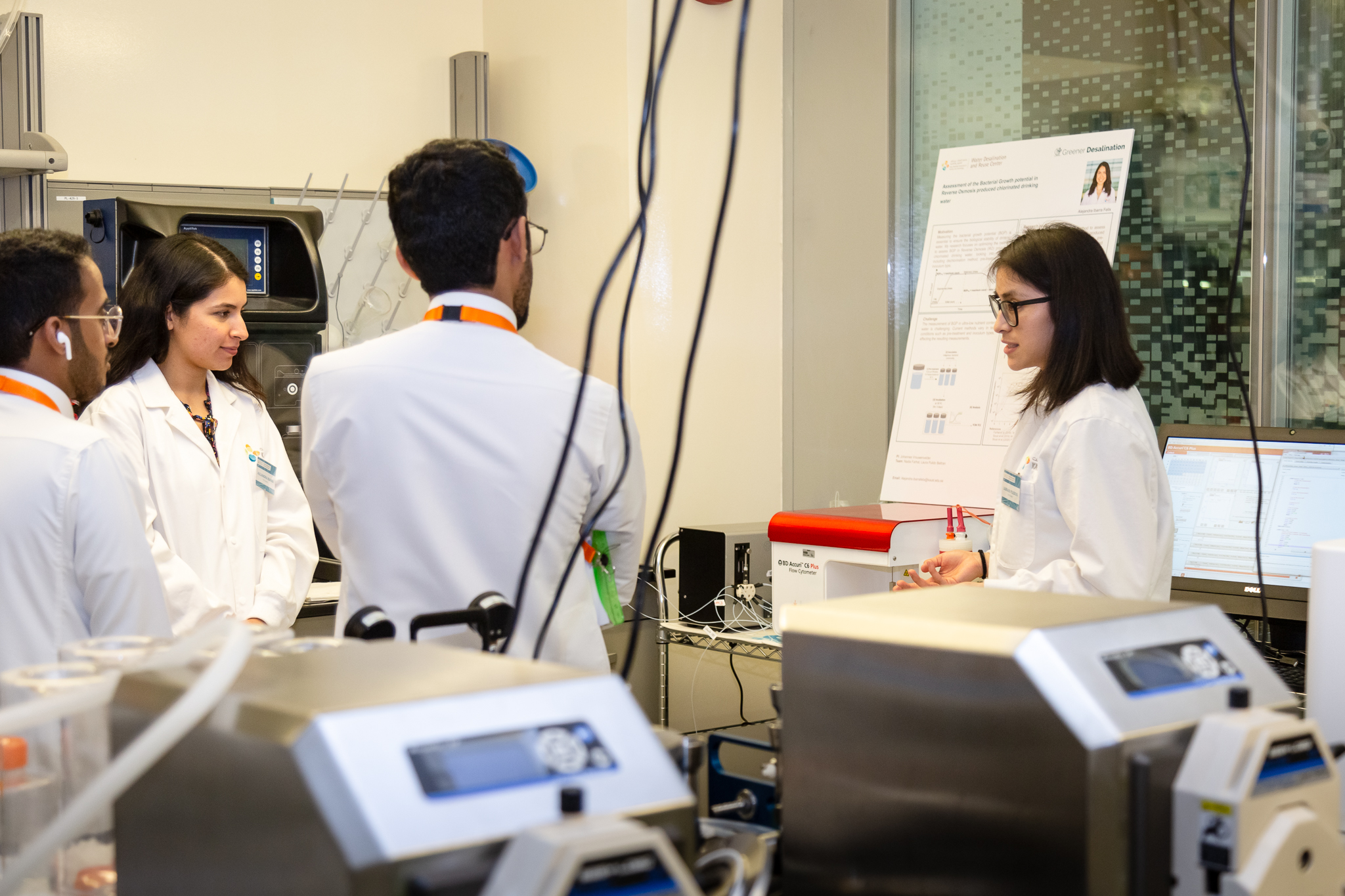 Laura Pulido, Ph.D. student explained about flow cytometry (FCM) allows monitoring in real time bacterial cell concentration in water systems.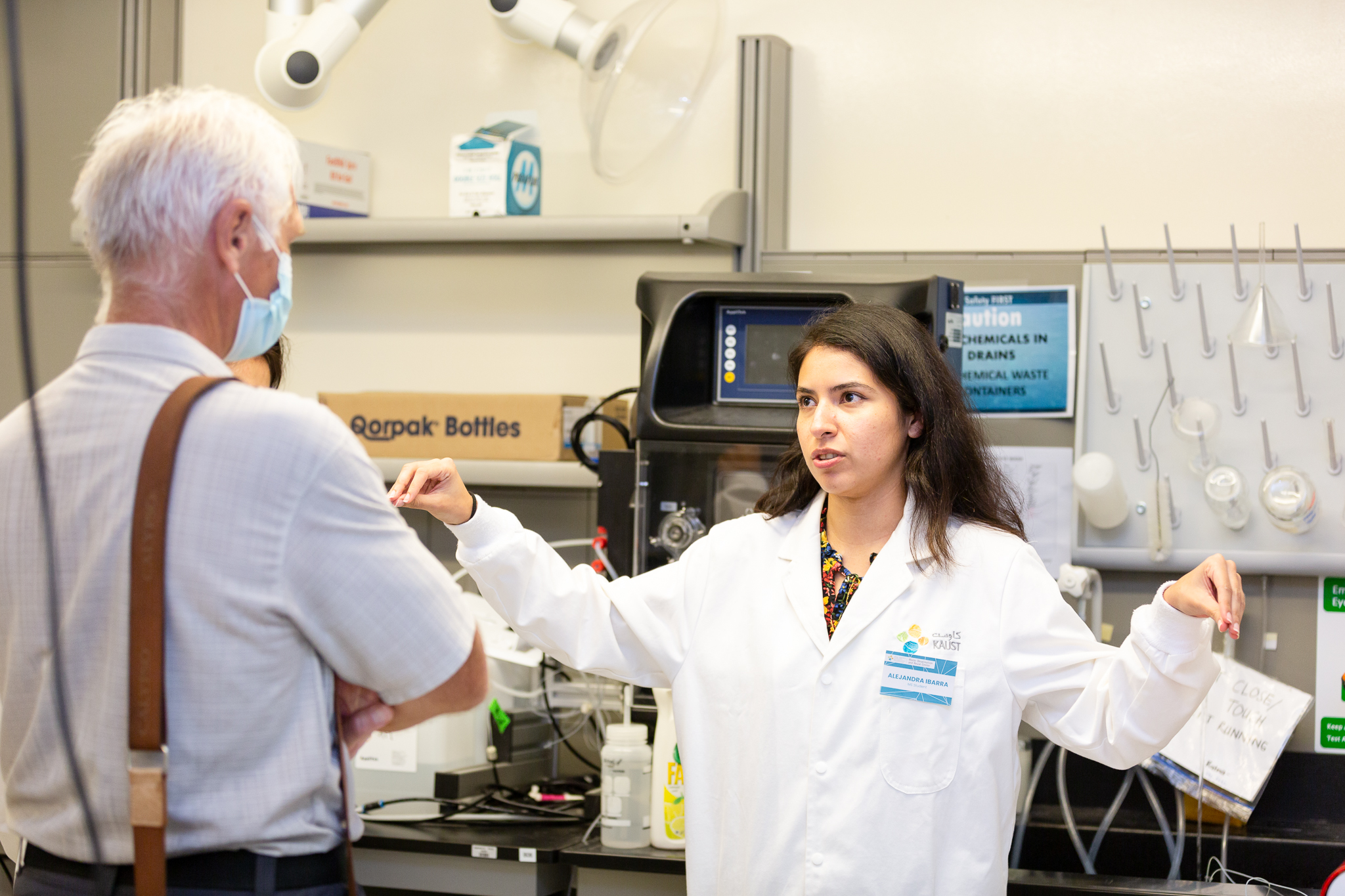 Alejandra Felix, MS student discussed her work on the assessment of the bacterial growth potential of reverse osmosis produced chlorinated drinking water, including aspects of dichlorinarion method, inoculum type and pre-treatment.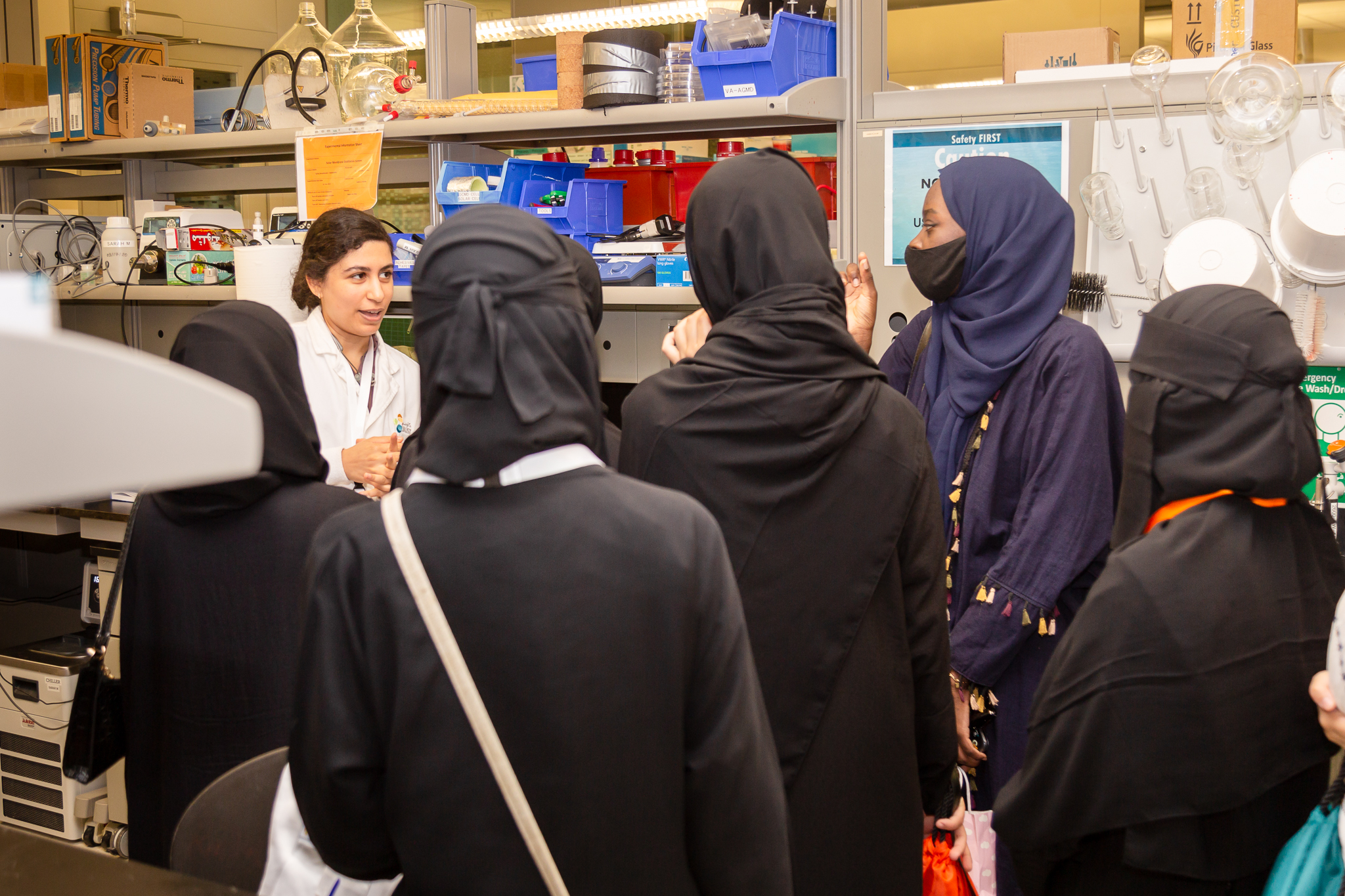 Membrane distillation in hollow fibers. Sarah Almafoodh, Ph.D. student presented her work on membrane distillation by heating the feed water at low temperature.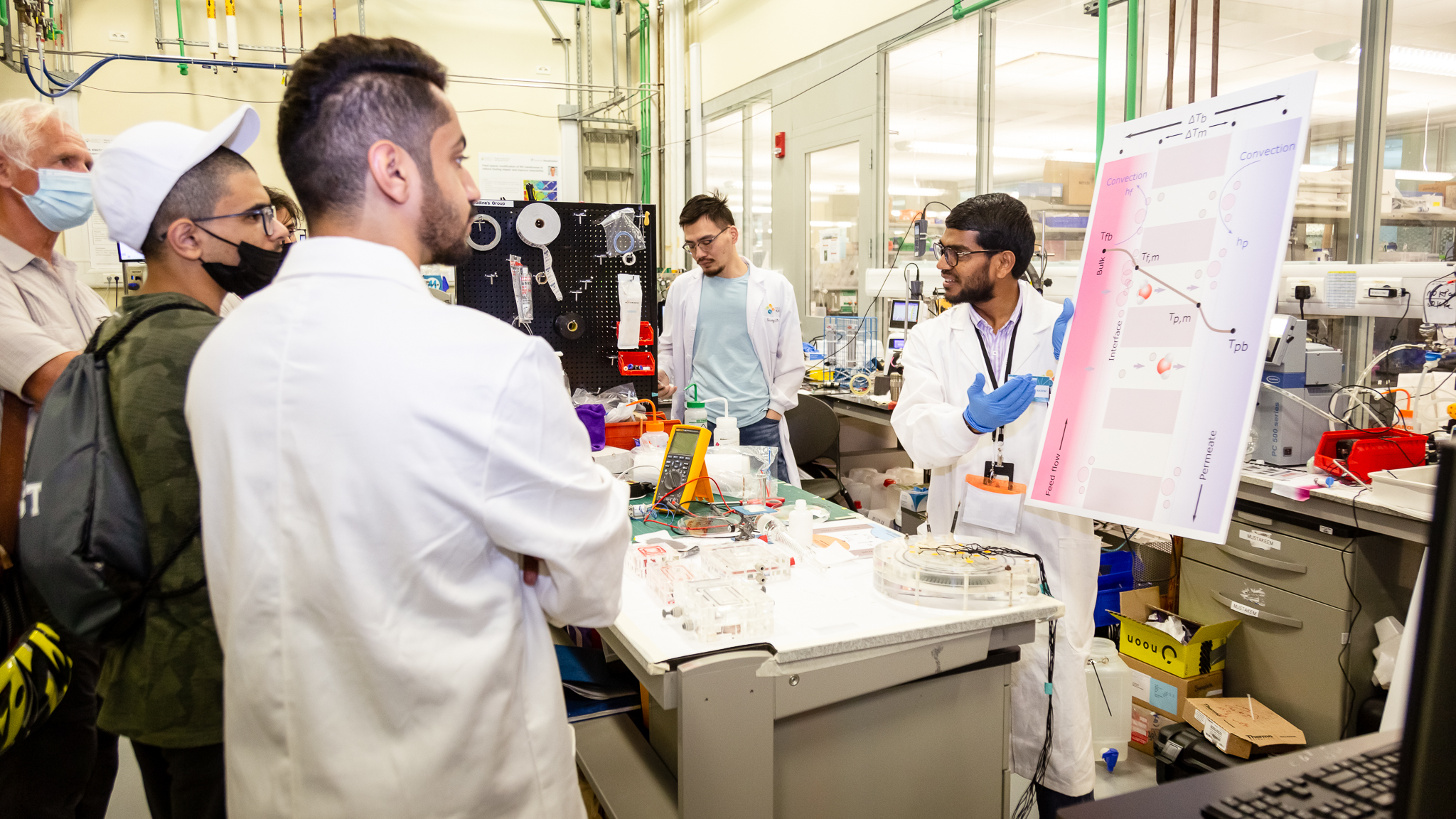 Photothermal membrane distillation. Graduating Ph.D. student M. Mustakeem explained his work on membrane distillation by localized heating.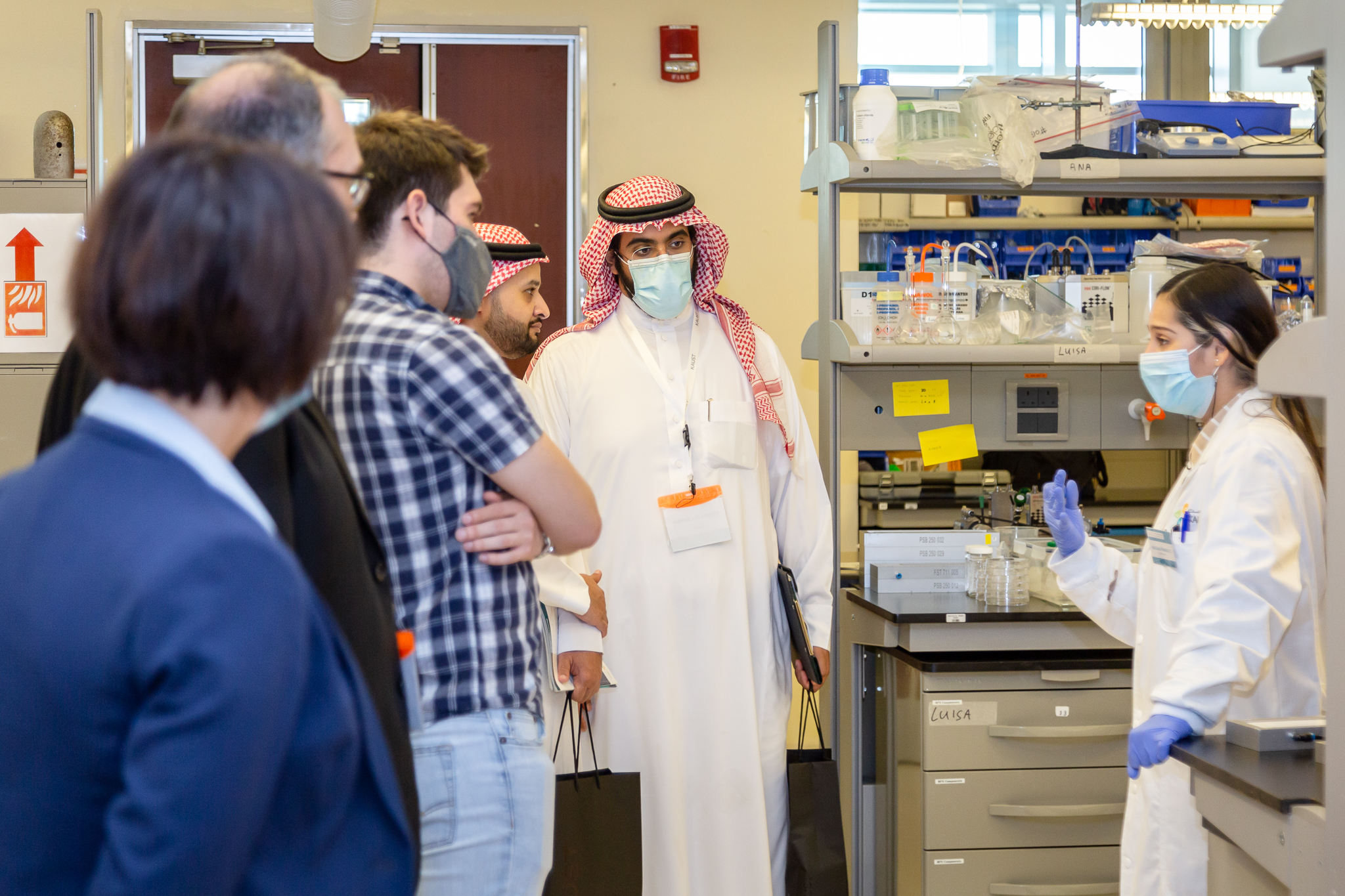 We were happy to welcome back alumnus Khaled AlSaud (middle) who introduced the center to his colleague at KACST. Presenter Natalia Franco Clavijo, MS student, described her work on water desalination with membrane fouling simulators (MFS) fed with real seawater to characterize biofouling.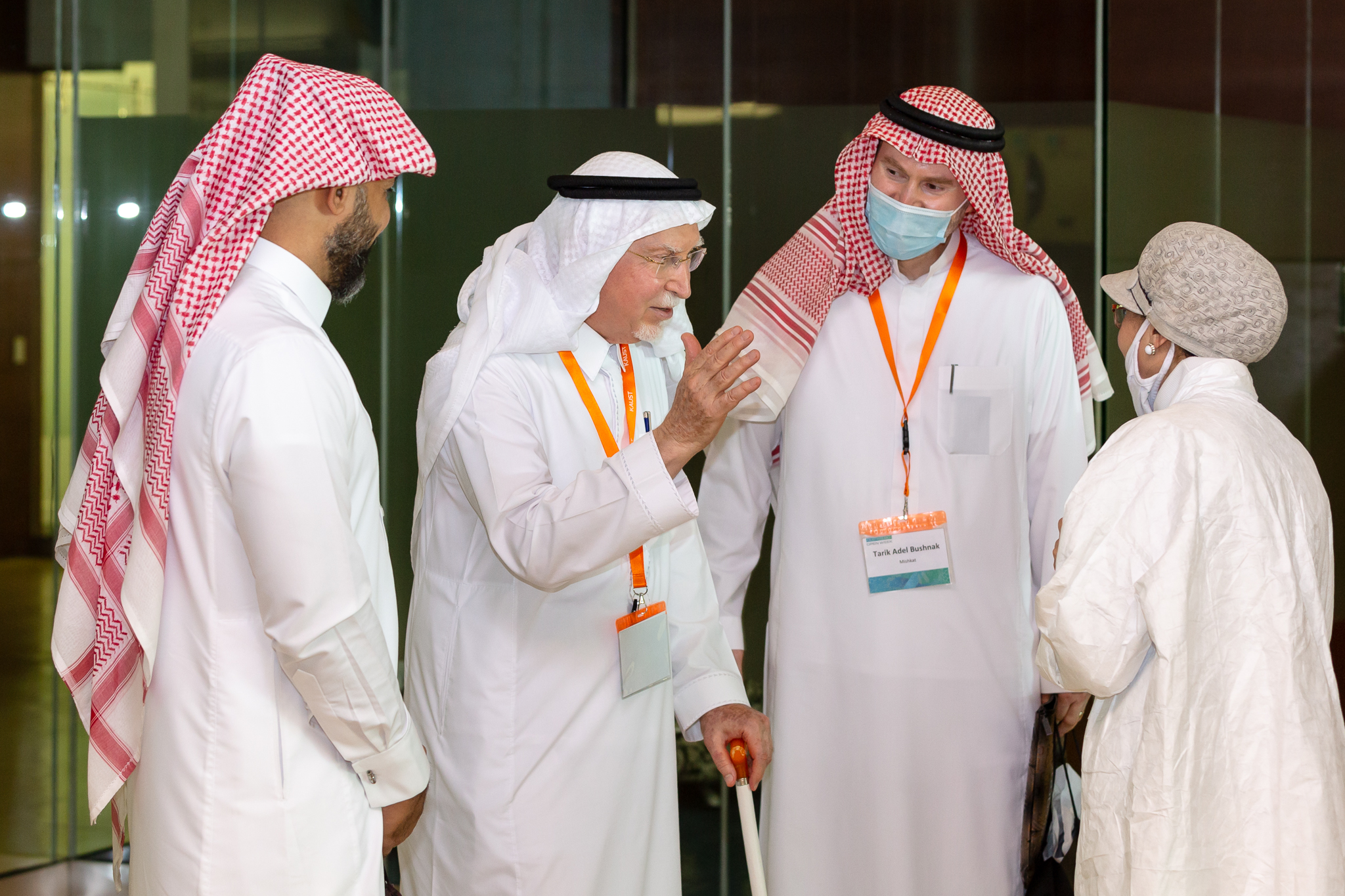 The team warmly welcomed Dr. Adil Bushnak, Chairman and CEO of Bushnak Group, who also graced the event.
The center would like to thank its members for their collective efforts and making the event a success. The exercise was indeed an excellent opportunity to share knowledge about water research with the broader audience, promote internal collaboration, and celebrate each other's research accomplishments.
Learn more about KROW.