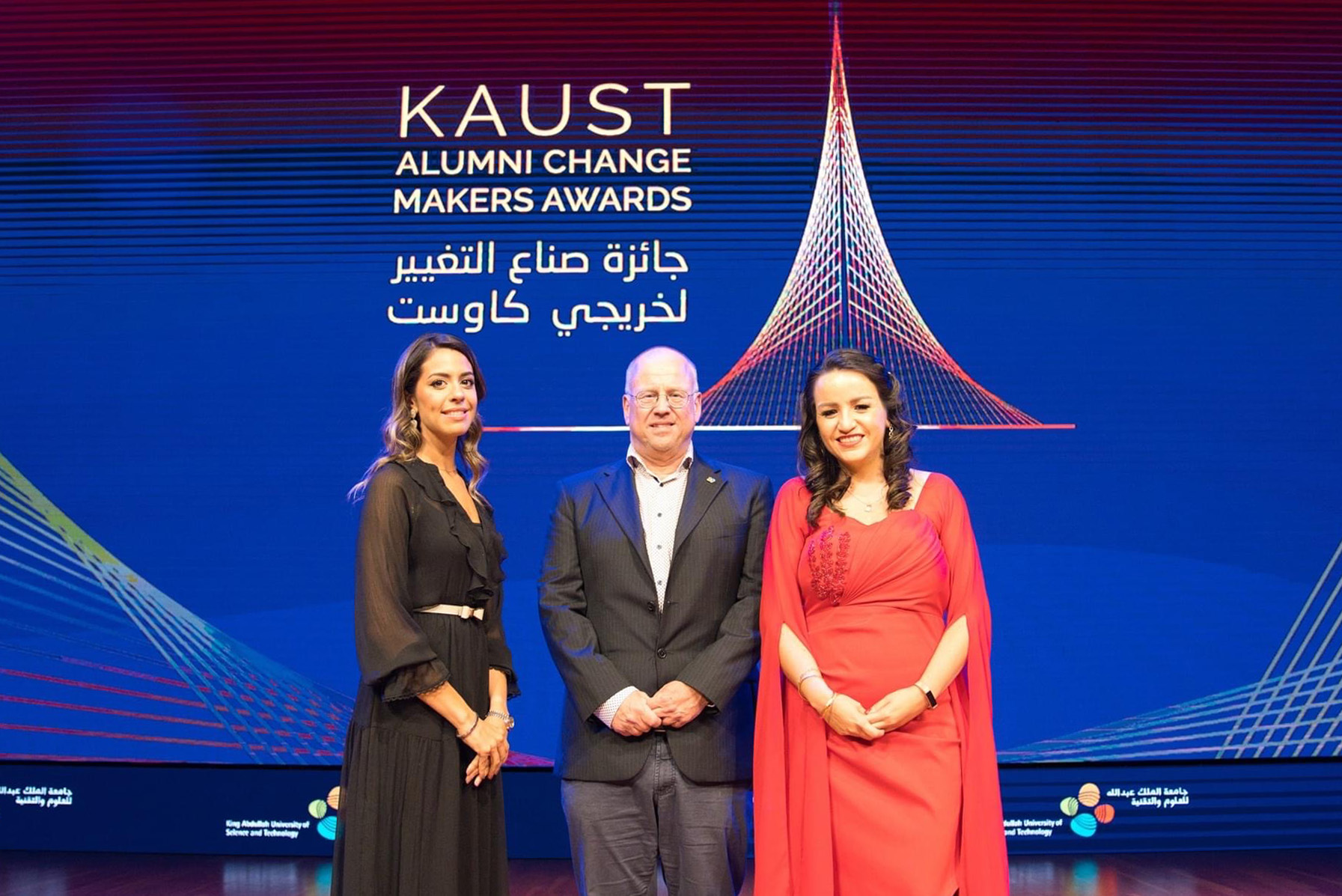 Photo from left to right: Dr. Yasmeen Najm, Professor Hans Vrouwenvelder, and Dr. Luisa Javier
The WDRC is proud to announce that Dr. Luisa Javier received the KAUST Alumni Change Maker Award in the Research, Innovation, and Entrepreneurship category. Dr. Yasmeen Najm was a recipient of a special recognition award. This annual award celebrates KAUST alums who are doing the extraordinary in their countries, communities, and careers.
Luisa came to KAUST in 2009 from Mexico as a Founding Class student, undertaking her Masters in Environmental Science and Engineering Program (EnSE). After graduating, she returned to Mexico to explore her entrepreneurial talents by co-founding a start-up. She was also an active ambassador for KAUST, inspiring students in Mexico with her stories of KAUST. Luisa returned to KAUST in 2017 to undertake her Ph.D. in EnSE under Prof. Johannes Vrouwenvelder, WDRC Director. During her Ph.D. studies, Luisa co-founded a start-up, Wayakit, with fellow Ph.D. student and alumni Sandra Medina.
Yasmeen joined KAUST in its infancy in 2008 when the KAUST Gifted Student Program (KGSP) sponsored her to study Human Genetics at the University College London. After completing her undergraduate studies, she continued her KAUST journey by joining a Masters in EnSE program and later Ph.D. studies, graduating in 2019. Yasmeen works as the Innovation Lead, Hydrogen and E-Fuels, at NEOM, Saudi Arabia.
"I'm very proud of Yasmeen and Luisa for what they have accomplished in their careers for a short time. We need more women in science who will impact change and inspire the younger generation of women. We can only look forward to more exciting things from our KAUST Alumni!" said Professor Vrouwenvelder.
2022 KAUST Alumni Change Makers: Meet the Winners
2022 KAUST Alumni Change Makers: Event Highlights
Read more about the 2022 Alumni Change Makers.
2023 KAUST Alumni Change Makers
Nominations for the 2023 Awards open on May 18, so we invite you to start thinking about potential nominees whose impact is making a difference in Saudi Arabia and internationally.