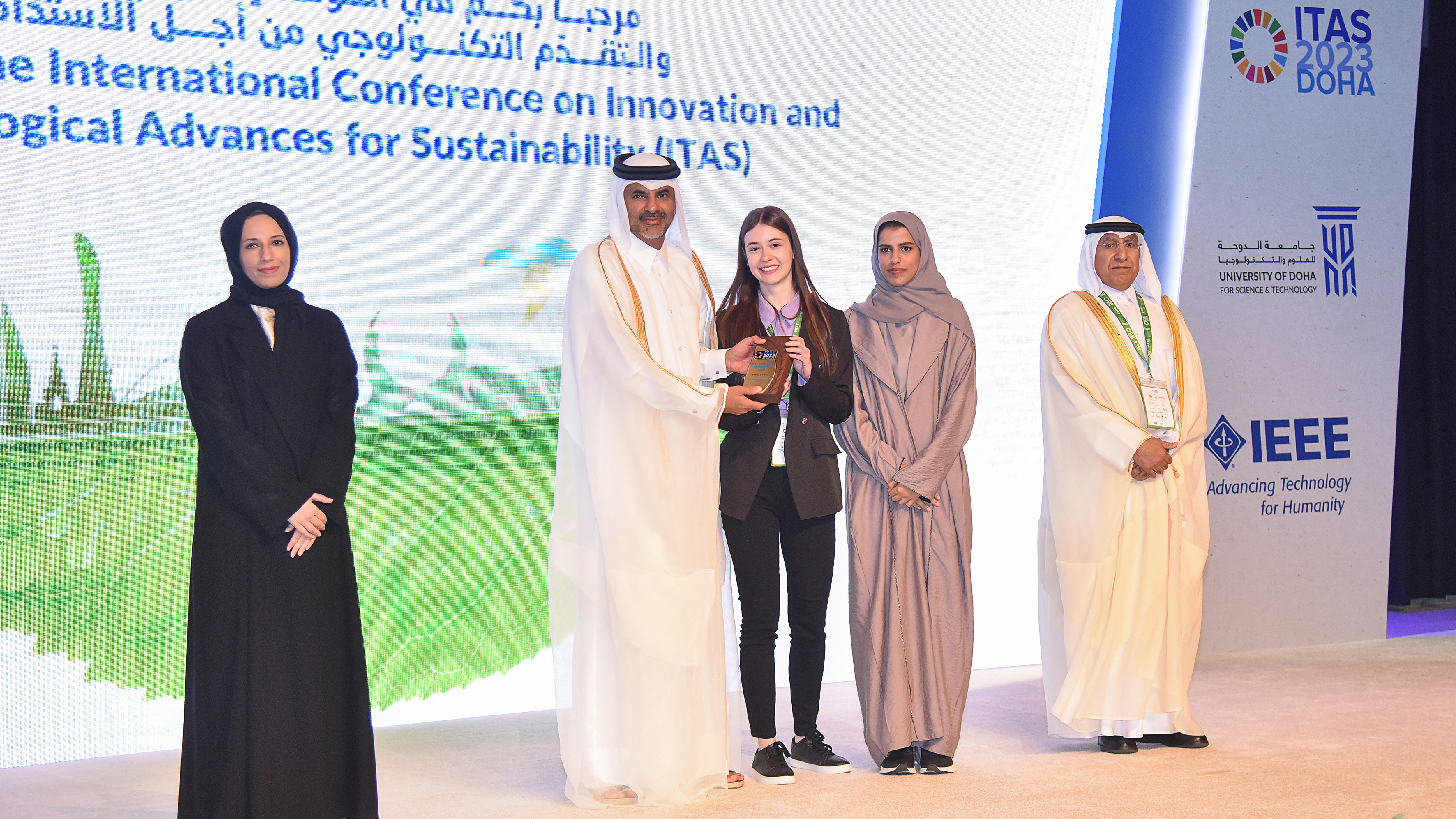 His Excellency Sheikh Khalid bin Khalifa bin Abdulaziz Al Thani, Qatar's Prime Minister and Minister of Interior, presented the first-place award to Nayara Huve Musskopf and Aishah Alsamdani at the International Conference on Innovation and Technological Advances for Sustainability (ITAS) opening at the University of Doha for Science and Technology (UDST).
On March 2, Nayara Huve Musskopf, an MS/Ph.D. student, and Aishah Alsamdani, an MS student, were awarded first place at ITAS Arab Youth Competition 2023 for their presentation entitled "SandX and CarboSoil as Two Practical Technologies for Realizing Sustainability and Food–Water Security." Both students are under the supervision of Himanshu Mishra, an associate professor of environmental science and engineering at WDRC, KAUST.
Culturing crops in arid lands, such as in the GCC countries, presents significant challenges, such as water scarcity and high rates of water evaporation, which negatively impact food security and large-scale greening efforts. The SandX and Carbo Soil are complementary technologies developed by Himanshu Mishra's team to address the challenges of growing crops in desert environments posed by ultralow water and nutrient-deficient soil. SandX is a water-repellant sand composed of desert sand coated with a nanoscale layer of paraffin wax which can be used as mulch on crops. Experiments and field trials have shown that SandX can reduce water evaporation by up to 80% and increase plant growth and yield by up to 70%. Since it is biodegradable, SandX becomes part of the soil matrix in approximately nine months. Moreover, it does not contribute to landfill waste or microplastic pollution compared to plastic mulching. CarboSoil, on the other hand, is an improved biochar product that can adsorb ions and act as a sponge for nutrients, preventing leaching and enhancing their availability to plants enabling it to mitigate the impact of alkaline soils in arid regions. CarboSoil is produced through the pyrolysis of organic waste, and through this process, not only is the waste eliminated, but it also prevents CO2 emissions and sequesters carbon in the soil in the long term. In the last year, the field trial with 600 native trees has shown that CarboSoil can enhance the base trunk diameter by 30%, height by 20%, and number of branches by 70%. Furthermore, an ongoing field trial with 2700 tomato plants also has shown an improvement of plant height by up to 20% when CarboSoil is present. Overall, the field tests on a variety of native Saudi trees and horticultural crops have demonstrated significant benefits in terms of grain or fruit yield and biomass growth.
"With the support of a Research Translation Grant from KAUST and our proprietary expertise in these technologies, we are scaling up the production of the materials from what started with batch reactors in the garage to continuous reactors in a factory," Nayara explained.

The team from KAUST was among the 15 finalists, comprised of ten undergraduate and five graduate students who showcased their projects to a jury of professors from renowned global universities. The ITAS Arab Youth Competition 2023 aims to create awareness about global challenges in youth to think critically and develop innovative ideas – a call to action to achieve the SDGs through technology. Participants are encouraged to identify and solve a real problem and find sustainable solutions using technology. The ITAS Arab Youth Competition 2023 is open to all students (citizens and *residents) from academic institutions (universities and colleges) in Arab Countries.