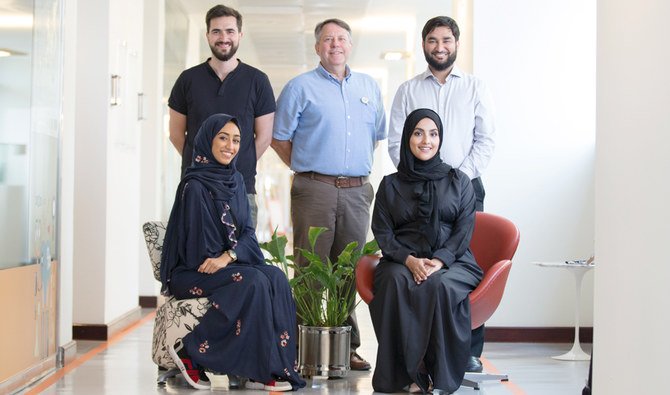 Startup of the Week: QualSens — smart water technology for the future
QualSens
is a King Abdullah University of Science and Technology (KAUST)-based startup that offers a solution for monitoring and enhancing process control in water desalination systems.
The startup is the product of Dr. Babar Khan,
Dr. Luca Fortunato
and
Professor TorOve Leiknes
, who combined their expertise in biology and water to come up with a solution to monitor water fouling. The journey began inside Leiknes' laboratory at the Water Desalination and Reuse Center at KAUST.

"We started in 2016," Fortunato, who moved to KAUST from Italy in 2014 to pursue a Ph.D. in environmental engineering, told Arab News. "We were working in the same lab, on the same problem, but from two different perspectives. We decided to combine our expertise in order to build something that would make an impact in the field."According to Khan, there was no better place than Saudi Arabia to test this.

"I wanted to use my biotech experience from NYC and expertise as a microbiologist to figure out how we could quantify bacteria in water systems, which became my Ph.D. work. I knew I couldn't do it alone, so very early on I found Luca, who was just as passionate as I was," Khan said.

QualSens is designing a smart sensor and monitoring device for enhanced process control in desalination systems. The sensor is based on several technologies, including fluorescent enzymatic sensing for the detection of bacterial activity. The sensor aims to detect fouling at an early stage in membrane-based processes, helping plant operators identify problems and take preventive action.

"We combined different approaches to build a smart sensor that detects and identifies the type of fouling developed in the system and help the operator mitigate it. The objective is to decrease the energy demand required for the production of drinking water," said Fortunato.

"The technology behind it works by hijacking a natural system used by bacteria," Khan said. "There's a recurring problem of fouling forming inside desalination tubes (units that filter seawater into fresh, clean, drinking water). Inside of these tubes, you can't see what's going on, and if enough bacteria form, the system stops working."
"Luca and I designed a system that can inject a light-emitting molecule that's very cheap and fast into the system to detect how many bacteria are inside that could contaminate," Khan said.

If the light signal increases in the sensor, that means bacteria are present. The system based on advanced data analysis alerts the operators, who can then start cleaning the system based on the sensor feedbacks. If the signal is low, then fouling is being controlled.

The co-founders both believe that what makes QualSens stand out is its hands-on approach and ability to cut costs for desalination operators.

"From the beginning, we wanted to be in the field, inside water treatment plants, with the people actually doing the measurements. We started taking trips to local desalination plants," said Khan.

"We were privileged to have a desalination plant at KAUST but are also working alongside government water agencies who are interested in trying out the technology. Our partnerships mean we can expedite development using our partners' development capabilities, past bacteria and into other types of fouling agents," Khan added.

KAUST has provided the QualSens team with the environment to execute their vision. The pair admitted they could not have made it today without the help they received.

"Every step of the way, KAUST has been there to support us, from a technology point of view and a business point of view," Khan said.

The facilities at KAUST helped establish a solid foundation for QualSens. Khan said that whenever he needed to talk to an expert in water monitoring, all he had to do was walk down the hall. When the team was developing its industrial-grade hardware or software, he would always find help at the University's Core Labs. Recently, the Technology Transfer Office, part of KAUST's Innovation and Economic Development, helped negotiate pilot-ready prototype development with a third party.

"KAUST and its resources allow us to travel around and talk to people who have real-world problems and then go and try to tackle those problems. They have all been influential in getting QualSens started and encouraging our personal development at the same time," he added.

"We had the opportunity to take part in the TAQADAM accelerator program (2018 Cohort), a joint KAUST-SABB Bank initiative. We were able to get close to real desalination facilities and gain an understanding of fouling problems in a full-scale process," said Fortunato.